Fantasy/SF Book Reviews
Page Three of Three
Sailing to Sarantium by Guy Gavrial Kay
HarperPrism, March 1999 .
Hardcover, 438 pages.
ISBN: 0061051179.
Ordering information:
Amazon.com.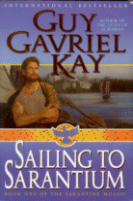 Sailing to Sarantium
is the first in a new series for the award-winning Kay (
See
,
The Silmarillon
with Christopher Tolkien, The Fionavar Tapestry series etc.). The story is set in a world which is similar to Earth's Byzantine Empire and fifth-century Europe. Our hero, Crispin, is a somewhat irascible, grumpy but good-hearted mosaicist who answers a summons from the Emperor to come to the great city of Sarantium to work on a stunning new architectural project which will need a top-notch mosaicist. In this world, the phrase "Sailing to Sarantium" means that you're about to experience great changes in your life. Even before he leaves his hometown, he is embroiled in the complicated politics of the time, and will face many challenges on the road ranging from the mundane (bad weather, unpleasant peasants) to the exotic (encountering a local God whose feeling a bit cranky). When he arrives in the city with the motley companions he's picked up along the way, he realizes his adventures have only just begun. The doings of the Imperial Court rival anything portrayed in
I, Claudius
, and a clever man just may find a home and fame, if he's lucky.
Sailing to Sarantium
has an unusual hero. Crispin is a mosaicist who is in mourning for his wife and daughter who died in a plague. Unlike the usual questing Hero, he is not of noble birth, a warrior or a young man seeking to make his future. But he is an interesting and likeable character, and, after the somewhat slow opening, you can't help but be drawn into his life. The supporting cast of characters is rich and quite well-done: the talking bird is funny with hidden depths, and the Empress (who started her career as an exotic dancer) is especially appealing to watch, as she manipulates people and politicians with the skill of a wily Roman senator. The humor is dry and the spirit of the beautiful old mosaics permeates the piece, making the reader want to know more about this old art form. Kay is as skilled a wordsmith as they come, and with
Sailing to Sarantium
, has begun his own mosaic masterpiece which only needs a few finishing touches (coming in future installments) to be a work of art itself.
---
Sister to the Rain by Melisa Michaels
Roc, Oct., 1998.
Paperback, 320 pages.
ISBN: 04514573078.
Ordering information:
Amazon.com.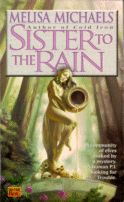 After her last case (
See
,
Cold Iron
), private investigator Rosie Lavine wants nothing to do with elves ever again. Human clients are good enough for her. But fate takes a hand and when a new, wealthy client walks in the door Rosie and her partner Shannon reluctantly agree to take on the case put forward by the aristocratic Lord Finandiel, a powerful trueblood Elf straight from Faerie. Finandiel's Earthly home is an artist's colony, in which humans, truebloods and halflings all peacefully coexist (well, most of the time). Lately some kind of "Trouble" has been appearing off and on, singing beautiful songs at night in the forest, playing pranks and frightening the children. When Rosie gets to the colony, she finds that no one seems very willing to help her with her investigation. When her temporary home is trashed and one of the colony's members turns up dead, Rosie must turn up the heat to find a prankster -- and maybe a murderer.
This is the second urban fantasy starring tough-talking, warm-hearted P.I. Rosie Levine. In
Sister to the Rain
, we learn much more about the fascinating world of Faerie and how it coexists with the human world we all know. One of Michaels' greatest gifts is her ability to create characters that seem so real that, after a few chapters, you really believe that elves are just around the corner. A magical treat that fantasy lovers and mystery lovers alike will love.
---
Servant of the Bones by Anne Rice
Ballantine, November 1998.
Paperback, 419 pages.
ISBN: 0345389417.
Ordering information:
Amazon.com.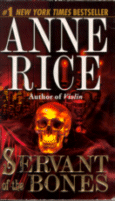 In 600 B.C., Babylon, a beautiful young Hebrew man, Azriel, has a strange and disconcerting gift: he can talk to a God. Not Yahweh, the god of the Jews, but a Babylonian God, Marduk, who built the city of Babylon. When his gift is discovered, he is drawn into the political turmoil of the times and is tricked into becoming the dreaded Servant of the Bones, Azriel, in a horrifying ritual. Now immortal, part-angel, part-destroyer, Azriel goes through history being summoned by anyone who knows the proper commands to bring him forth. In modern day America, Azriel has found a biographer, a chance to right a terrible wrong, and break free from his bonds to live his own life.
Servant of the Bones
is another winner from the prolific and imaginative Anne Rice. The world of ancient Babylon is brought to life in entrancing, vivid detail. Azriel himself is a sympathetic character, unlike the stars of some of the other Rice novels. Tormented, missing some of his memory, with a deadly thirst for revenge, Azriel struggles within himself to find out who he was before he became the Servant of the Bones, and how he can break free from the deadly curse laid upon him while he was trusting, young and innocent. The modern day denouement is excellently paced and plotted, leaving the reader wanting more at the book's end. A must-read for Rice fans.
---
Fantasy Reviews
Page One | Page Two | Page Three

Return to Book Reviews Index





---
More from Writers Write