Fantasy/SF Book Reviews
Page Two of Three
Nimisha's Ship by Anne McCaffrey
Del Ray, Feb., 1999.
Hardcover, 388 pages.
ISBN: 0345388259.
Ordering information:
Amazon.com.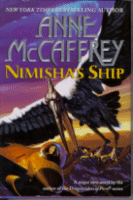 On the planet Vega III, Lady Nimisha Boynton-Rondymense grows up pampered and adored by her wealthy and brilliant shipbuilding father and her social butterfly and somewhat snobbish mother. To her mother's complete horror, Nimisha is more fond of assembling and reassembling her electronic toys than she is of clothes and makeup. So when her father dies, it seems natural that Nimisha, a talented starship designer, takes over the powerful Rondymense shipyards. Everyone accepts the change in ownership except for her half-brother, Vestrin, who is ready do whatever it takes to take control of the company he believes should have been left to him. The company prospers under Nimisha's guidance, until a test flight goes horribly wrong and the ship is sucked into a wormhole and flung across the galaxy, with no realistic way of getting home. Always practical, Nimisha sends out a distress call and sets out to investigate the area. She finds a habitable planet with some other stranded humans and immediately allies with them. But the planet poses some stiff challenges to the would-be settlers, such as prehistoric, bloodthirsty animals and an alien race who also appears to be stranded.
Anne McCaffrey's latest novel is a blend of adventure and romance which centers around the decidedly unusual life of Nimisha Boynton-Rondymense. A beauty with a bent for engineering and design, she is a likeable heroine with a gift for getting out of sticky situations. Unlike some of McCaffrey's other works, Nimisha's Ship doesn't deal with truly evil characters -- it is the environment itself which is the real challenge here. Although there is one somewhat jarring scene (in the middle of a dangerous and possibly hopeless expedition, the heroine decides it's time to have a child), the rest of the book flows pleasingly with nonstop action, romance and the fascinating details of a new culture -- all areas in which McCaffrey excels.
---
Pandora by Anne Rice
Ballantine, Jan., 1999.
Paperback, 344 pages.
ISBN: 0345422384.
Ordering information:
Amazon.com.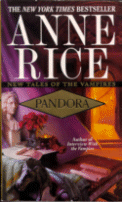 Pandora
is the first in Rice's New Tales of the Vampires series, and it opens this new series with style. Pandora is a wealthy Senator's daughter in Rome under the Emperor Augustus. She leads a pampered and intellectually stimulating lifestyle in Rome, becoming a follower of the Goddess Isis, until the day she is forced to leave her home and flee to Antioch in fear of her life when her family is slaughtered by a political opponent of her father's. Assisted by friends of her father's, she sets up a household in Antioch as a wealthy woman with a new name: Pandora, where she is eventually made into a vampire by the handsome and charismatic Marius, who also made Lestat (
See
,
Interview With a Vampire
). The story follows her long association with Marius and her passage through time and history until present-day Paris.
Pandora
is Anne Rice at her best. Pandora herself is a fascinating creature: intelligent, funny and always clashing with Marius about the value of emotion and spirit over logic and reason. The descriptions of life in Rome and Antioch, as well as the worship of Isis are lush and evocative, creating a magical world the way only Rice can. With passion, adventure and Pandora's brand of wry humor, this is an outstanding entry in the Vampire Chronicles.
---
Fantasy Reviews
Page One | Page Two | Page Three

Return to Book Reviews Index





---
More from Writers Write