Fantasy/SF Book Reviews
Page One of Three
The Jackal of Nar by John Marco
Bantam Spectra, March 1999 .
Hardcover, 660 pages.
ISBN: 0380974568.
Ordering information:
Amazon.com.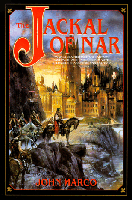 Prince Richius Valtran, known as "the Jackal," is fighting a war he doesn't believe in, for an Emperor he's never met. The mysterious Emperor of the land of Nar rules over many kingdoms, including that of Richius' father, but still he longs for more territory. His latest conquest is the borderland of Lucel-Lor, which is hotly defended by the fanatical followers of Tharn, a rebel rumored to possess dark, powerful magic. Richius returns home from the front in defeat, weary and heartsick from the misery and endless death that surrounded him, and from the horrible loss of the only woman he will ever love. When his father dies and Richius ascends to the throne, he is invited to the Black City itself to be crowned by the Emperor in a grand ceremony. There he will be drawn into political intrigue at a high level, and become the centerpiece of yet another of the Emperor's grand plans, which if fulfilled, could mean death and suffering for the entire known world. But is one man a match for the machinations of a brilliant, powerful and apparently immortal ruler and his vast army?
John Marco has crafted a sweeping epic which will thrill lovers of military fantasy. Although the story is perhaps a bit more lengthy than it really needed to be, the pacing is steady and the plot is well-crafted. What really sets
The Jackal of Nar
apart from the crowd are the wonderful characters Marco has created. The hero, Richius, is a tortured soul, who has a lot of growing up to do and is forced to make some terrible decisions in order to save lives. He doesn't always make the right decisions, which makes him seem all too human. But it is the delightfully nasty Count Biagio who steals every scene he is in, and the strangely compelling story of the evil Emperor which really fascinates. The humor is subtle and ironic, and the love story, while unusual, satisfies. All in all, an excellent debut from a promising new author.
---
Fear Nothing by Dean Koontz
Bantam Books, December 1998.
Paperback, 432 pages.
ISBN: 0553579754.
Ordering information:
Amazon.com.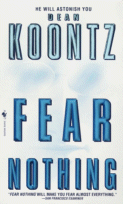 For Christopher Snow, a sufferer from the rare genetic disease xeroderma pigmentosum (XP), an intense allergy to light and sunlight, life is very difficult and unusual. But it is about to become even more unusual. People already treat him in a mysterious celebrity-like manner because of his affliction, but the people in the town begin to act even more peculiar around him after he makes some startling discoveries. When his father dies of cancer at the hospital, he forgets to bury a certain photograph with him, as he had promised to do. When he goes to take the photograph to place it in his father's coffin he finds his father's body is being switched with the body of a hitchhiker by the funeral director and another man. Snow watches in secret and later asks the funeral director about his father's body, who tells him his father has already been cremated. Confused by the disloyalty of the director, Snow begins investigating only to find that other townspeople of Moonlight Bay are hiding things too and that they will do every thing they can to keep the town's dark secrets from reaching the outside world.
Dean Koontz has created two terrific characters: Christopher Snow, forced to be a creature of the night due to his XP and his highly intelligent dog and loyal friend, Orson. The supporting cast of characters is just as interesting. This is certainly one of Koontz's best. With an exciting plot line, appealing characters and terrifying elements of scientific horror
Fear Nothing
is a great beginning to this horror adventure series. Highly recommended.
---
Fantasy Reviews
Page One | Page Two | Page Three

Return to Book Reviews Index




---
More from Writers Write
---