Fantasy/SF Book Reviews
Page Two of Two
Shrine of Light by Sarah Isidore
Eos, July 2000.
Paperback, 352 pages.
ISBN: 0380803194.
Ordering information:
Amazon.com.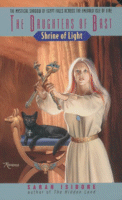 In ancient Ireland, the Druids are the religious leaders of the people. But a new religion, Christianity, is making its way across Europe, and the new religion is quite intolerant of the old. Damona is a young priestess of Bast, the cat-headed goddess from Egypt which is worshipped by a small group of Celts. Damona is always accompanied by Mao, a black cat whom she can speak with and who himself has mysterious powers. But Bast has a powerful rival, her sister the evil lion goddess Sekhmet. Sekhmet takes away everything Damona loves in order to test her loyalty to Bast and convinces Damona to server her instead. But evil comes from this decision, and Damona must undertake a perilous journey in order to set things right and retrieve her soul.
This is the second book in the Daughter of Bast series, which has a very interesting premise: the worship of an Egyptian goddess by the Celts. Both Veleda, the first priestess featured in
The Hidden Land
, and Damona are strong, complex women who must grapple with evil and their own desires in order to right wrongs and to fulfill their destinies. The Celtic background is both harsh and beguiling, and the conflict between Bast and Sekhmet is always entertaining. This is a unique and compelling series which lovers of Celtic history and Egyptian mythology will adore.
---
Shrine of Stars: The Third Book of Confluence by Paul J. McCauley
Eos, September 2000.
Hardcover, 372 pages.
ISBN: 0380975173.
Ordering information:
Amazon.com.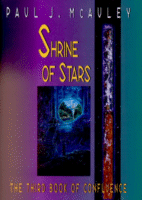 This is the long-awaited third entry in the outstanding trilogy (
Child of the River
,
Ancients of Days
and now
Shrine of Stars
) by radical hard SF author Paul J. McAuley. The Child of the River, Yama, is being held prisoner by Dr. Dismas, who himself is enthralled by the feral machine. Meanwhile, the artificially constructed world of Confluence is being torn apart by civil war: the entrenched bureaucracy fighting the heretics, led by the remains of an artificial intelligence called Angel, a copy of a real woman who visited the planet eons ago. Yama's friends Tibor and former thief Pandaras search for their imprisoned master, making their way through the war-torn country. Both sides know of Yama's great powers over the machines of the world, and try to use Yama to their own advantage. But Yama has a strong will, and will not be so easily used. Once he learns the true nature of Confluence, and his role in the world, he has some terrible decisions to make: to destroy Confluence or to save it?
The Confluence series is a truly remarkable one. Paul McAuley has created a story of depth and scope, with several layers of meaning. Yama's quest certainly reads as an entertaining adventure (especially for the first two books), but it also contains great satire of some of the classic SF literature and ideas, as well as musings upon the power and great lies that underlie most religions and political parties and our essential inability to ever really know or understand our past history. Highly recommended.
---
Fantasy/SF Reviews
Page One
|
Page Two
Return to Book Reviews Index
---
More from Writers Write