Fantasy/SF Book Reviews
Page One of Three
Ancients of Days by Paul J. McAuley
Eos, July, 1999.
Hardcover, 386 pages.
ISBN: 0380975165.
Ordering information:
Amazon.com.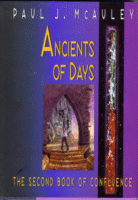 In the world of Confluence, 10,000 different races of animal-like humanoids live together surrounded by the machines which run the world and keep order. In this world is a young man, Yama, whose bloodline is that of the Builders, the first bloodline created by the human Preservers, the creators of this beautiful and unique world. Yama is on a quest to find the truth about his purpose and his origins. He finds an aspect (a downloaded personality) left behind of Angel, one of the Ancients of Days, humans who came to Confluence after the Preservers had left, who tried to start a revolution against the old ways of doing things. Angel tells Yama about her history, and tries to influence Yama to lead the revolution by the Heretics who follow the Ancients of Days. But Yama resists both Angel, and the evil Prefect Corin's calls to fight a war, and instead travels up the Great River on his quest to find out his origins and his purpose: is he really the Messiah of this world, or something very different?
This is the second book in the Confluence trilogy. In the first book, we met Yama and his world. This second book continues Yama's search and reveals much more about the fascinating artificial world of Confluence. Paul J. McAuley has an extraordinary imagination, and his fantasy world is complex and compelling. The common fantasy theme of the orphaned hero going on a search for his family is made fresh and interesting by the talented McAuley, and the action never lets up. A truly insightful and thought-provoking fantasy work.
---
Aramaya by Jane Routley
Eos, June, 1999.
Trade paperback, 278 pages.
ISBN: 0380794284.
Ordering information:
Amazon.com.
Dion Holyhands the Dragonslayer is a beautiful and powerful Mage who is determined to travel to the capitol city of Akieva, located in the wealthy country of Aramaya, to find her missing niece Dally. While at the opulent and decadent court of the emperor, Dion sees Dally -- but she seems to be in a strange trance of some kind and is never seen without her guardians. Meanwhile, some very strange occurrences lead Dion to believe that her old enemy, the Demon Bedazzer, is in Akieva and is plotting something horrible. With the help of her colorful theater friends and her new love, Prince Nikoli, Dion will face her most powerful challenge to date: to save her niece from a horrible cartel of necromancers and to defeat the Demon that is determined to possess her soul.
This is the third book which chronicles the adventures of Dion Holyhands. Aramaya is remarkably similar to Czarist Russia, with cold weather, an opulent and somewhat decadent society, and a strict observation of the different social classes. In this adventure, in addition to fighting the dark forces of magic, Dion becomes estranged from her husband and wrestles with her longing to have a child. For romantic fantasy fans, it doesn't get much better than this.
---
Fantasy/SF Reviews
Page One | Page Two | Page Three

Return to Book Reviews Index





---
More from Writers Write