Fantasy/SF Book Reviews
Page One of Two
Star Trek: Aliens and Artifacts by Michael Westmore, Alan Sims, Bradley M. Look and William J. Birnes
Pocket Books, October, 2000
Trade paperback, 208 pages
ISBN: 0671042998
Ordering information:
Amazon.com.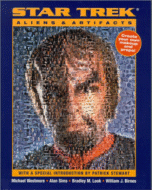 Oscar-winning make-up artist Michael Westmore has teamed with a group of talented professionals to reveal a behind the scenes look at the incredible, Emmy award-winning make-up, design and prop creation for the popular Star Trek series, including the original series,
Voyager
,
Deep Space Nine
, and
The Next Generation
. The book traces the makeup, costuming and prop challenges presented, from the first Vulcan's (Spock's) ears on the original series, the evolving look of the Klingons, the creation of the Borg and how the prop master made everything from tricorders to dermal regenerators. Also included (just in time for Halloween) is a special section which shows you step by step how to create for yourself the looks of Data, a Klingon, a Ferengi Star Fleet officer, Borgs (Three of Five and Seven of Nine), a Romulan and a Vulcan.
Star Trek
fans will love the chatty, insider's point of view, and the costuming and make-up tips are invaluable for creating just that special look for the next convention.
---
Star Trek: Deep Space Nine Companion by Terry J. Erdmann with Paula M. Block
Pocket Books, August 2000.
Trade Paperback, 800 pages.
ISBN: 0671501062.
Ordering information:
Amazon.com.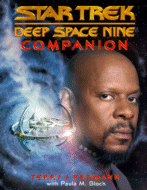 Star Trek: Deep Space Nine
ran for seven years, and was incredibly popular. The setting for the story, the dark, forbidding Cardassian space station, was a real departure from the bright, positive ambience of the starships. But Avery Brooks as Captain Sisko and his cast soon created a cult following of their own. When Michael Dorn as Worf joined the cast after the end of
The Next Generation
, the show became even more interesting, as the Klingons became a fixture on the show. From the war with the shapeshifting Founders of the Dominion, to Star Fleet's extreme discomfort with one of its captains being revered as a religious leader to the Bajorans (Sisko was named Emissary by the Bajoran Prophets), the show was at turns, dramatic, funny, adventurous, and even heartbreaking.
Now Terry J. Erdmann has provided fans with the official, ultimate DS9 companion -- and it's perfectly executed. Synopses of all 176 shows, in-depth cast and crew interviews, behind the scenes information and hundreds of illustration and photographs are included in this hefty, 723 page trade paperback. But the most fascinating parts of the book are the backstage looks at what went into all of the major decisions about the show: from casting to the difficulties surrounding the death of Jadzia (she would have preferred to go out fighting, like a true Klingon). This is a must-have for all DS-9 fans.
---
Fantasy/SF Reviews
Page One |
Page Two
Return to Book Reviews Index
---
More from Writers Write