Computer Book Reviews
Page Two of Two
Ten Minute Guide to PC Upgrades by Galen Grimes
Que, Mar., 1998.
Trade Paperback, 197 pages.
ISBN: 0789715724
Ordering information:
Amazon.com.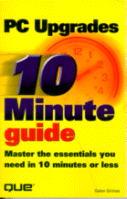 This book provides summaries of upgrade procedures for your PC including installing cards, increasing memory, and adding more disk space. The quick reference guide covers commonly encountered PC upgrades and devotes a chapter in the book to each type. The book also tells the reader what to look for when purchasing the hardware necessary to complete the upgrade. Upgrades covered in the book include memory upgrades, processors, motherboards, hard disk upgrades, replacing a floppy disk, CD-ROM drives, input devices, video cards, monitors, case and power supply upgrades, bios, speakers, sound cards, printers, scanners, digital cameras and others. The book also introduces the beginner to the basics of how a PC works, how to examine your PC and the tools or software you will need when upgrading.
PC Upgrades provides concise and informative instruction with step-by-step explanations. A great guide to have around for those times when you would prefer to upgrade your current PC instead of spending money on a new model.
---
Using HTML 4, Java 1.1 and JavaScript 1.2 by Eric Ladd, Jim O'Donnell
Que, Feb., 1998.
Trade Paperback, 1400 pages.
ISBN: 0789714779
Ordering information:
Amazon.com.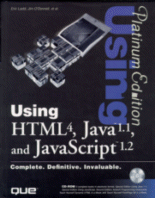 This resource focuses on the latest web publishing developments and provides details on how to best take advantage of them. The book covers the major uses of HTML, Java and JavaScript, providing detailed instruction, code and examples for each topic. The HTML coverage includes tags, imagemaps, tables, frames, forms and style sheets. The Java coverage includes applets, graphics, animation, implementing live chats, network programming and security issues. JavaScript subjects addressed in the book include an introduction, inline JavaScripting, opening new windows, frames, smart forms, cookies and a reference section of JavaScript commands. In addition the book also addresses other web publishing technologies including XML, VRML, web database tools, CGI Scripts, server-side includes, Microsoft Frontpage and others. The CD-ROM includes the source code, examples and applications from the book; as well as web development tools, HTML editors, graphics tools and custom graphics and backgrounds. Additionally, the CD-ROM also contains five books in electronic format on the following topics: Java 1.1, ActiveX, JavaScript, Dynamic HTML and FrontPage 98.
Using HTML 4, Java 1.1 and JavaScript
is an information-packed reference filled with source code, examples and instructions. There are enough ideas and concepts addressed inside to aide even the most experienced web developers.
---
New Rider's Official Internet and World Wide Web Yellow Pages (7th Ed) by by Lorna Gentry, Kelli Brooks, Jill Bond
New Riders, Feb., 1998.
Trade Paperback, 1214 pages.
ISBN: 1562058746
Ordering information:
Amazon.com.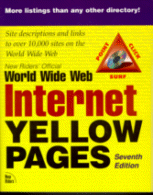 This gargantuan guide offers reviews and listings of thousands of websites. Each site is referenced by a alphabetical index or by subject category. The book contains over 10,000 entries. Reviews include a synopsis of the website, the website address and occasional screen shots of the site. Each section also includes the editors top pick in that category plus addresses for related newsgroups. The included CD-ROM also contains the website's addresses and reviews.
Internet Yellow Pages
is a handy print guide for quickly locating a website or for reading about what the Internet has to offer on a variety of subjects.
---
Click Here For Computer/Web Design Book Reviews Page One
Return to Book Reviews Index
---
More from Writers Write