Computer Book Reviews
Page One of Two
Creative HTML Design by Lynda Weinman & William Weinman
New Riders, Jan., 1998.
Trade Paperback, 434 pages.
ISBN: 1562057049
Ordering information:
Amazon.com.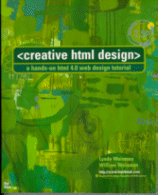 Creative HTML Design
provides the reader with a look at web design beyond coding procedures. The book introduces a variety of web design principles including graphic design, page layouts, using web colors, typographic tricks, using forms and animation and sound. From the inside cover, which includes a very useful browser-safe color chart, to the HTML reference guide in the back, the book provides a look at web design that focuses on the look and feel of the webpages being created. Highlights in the book include instruction on creating backgrounds for your webpages, how to align graphics in with your text, how to overcome the limitations of font types in HTML and a section on creating rollovers which is text or graphics that changes when the mouse passes over it. The book also comes with a CD-ROM which contains third party software, source code and examples from the book.
This easy to follow web publishing guide will bring novices comfortably into the web design world and teach them good style and technique skills as well. An excellent tool for beginners or for web designers looking to touch up on their web graphic skills.
---
Peter Norton's Inside the PC by Peter Norton and John Goodman
Sams, Dec., 1997.
Trade Paperback, 800 pages.
ISBN: 0672310414
Ordering information:
Amazon.com.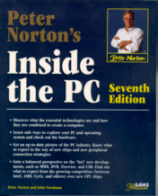 Peter Norton's book provides an in-depth look into your PC's contents. It provides explanation of the parts and mechanics of your PC, how to explore inside your computer without creating problems and looks at recent development in the computer industry such as MMX and DVD. The book is written in easy to understand terms, but also includes numerous "technical note" boxes, that contain detailed technical information. Topics covered in the reference book include an introduction to computer parts and hardware, bits and bytes, processors, how your PC thinks, storage space, memory, input devices, printers, PC input and output, operation systems, modems, and new hardware products.
Inside the PC
is a great way to better understand your personal computer. As the author, Peter Norton, suggests, "the better you understand your PC, the better equipped you are to realize the potential in the machine and - don't forget this - to deal with emergencies that arise when working with a PC." A great book for the technology curious home PC user and for those using PC's in business.
---
Click Here For Computer/Web Design Book Reviews Page Two
Return to Book Reviews Index
---
More from Writers Write