Writing Book Reviews
Page One of Two
Dynamic Characters by Nancy Kress
Writers' Digest Books, July 1998.
Trade Paperback, 284 pages.
ISBN: 0898798159
Ordering information:
Amazon.com.
This writer's aide from popular science fiction author and
Writers' Digest
magazine columnist, Nancy Kress, helps writers create more significant and appealing characters. Through thought-provoking instruction, examples, bullet points and checklists writers are taught numerous different methods of creating strong characters including: descriptive details, naming characters, characters jobs, dialogue, basing characters on real people, character's personal thoughts, villains, dreams, secondary characters, character changes and connections among characters. The book also includes a valuable character dossier that allows you to record your character's characteristics.
Dynamic Characters
is a valuable reference for writers seeking to create more believable and interesting characters. Ms. Kress' instruction and tips will help developing writers learn the concepts of characterization and how and when to apply them in their writing. Recommended for both beginning and advanced writers who want to seed their stories with interesting, complex and compelling characters.
---
How to Tell a Story by Peter Rubie and Gary Provost
Writer's Digest Books, July 1998.
Trade Paperback, 234 pages.
ISBN: 0898798094
Ordering information:
Amazon.com.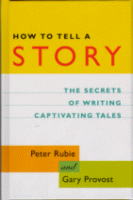 This guide to storytelling by Peter Rubie, who draws on the experience and philosophy of his friend, expert writing instructor, Gary Provost, will help the beginner learn the basic concepts. The instruction in the book is both informative and motivational. Concepts addressed in the book include: ideas, hooks, genres, plotting, characters, scenes, conflict, theme, subplots, structure rewriting and pace. The final chapter in the book entitled "Fourteen Steps to Writing Your Story" acts as an outline to the instruction in the book, which leaves the writer with a solid feeling of what he or she needs to do to in order to create and finish a work of fiction. The appendix teaches the reader how to write a book proposal and includes a full example of a nonfiction book proposal.
How to Tell a Story
is an encouraging and valuable reference book for beginning writers.
---
Click Here For Writing Book Reviews Page Two
Return to Book Reviews Index
---
More from Writers Write
---