Writing Book Reviews
Page One of Two
A Friend in the Business by Robert Masello
Perigee, May 2000.
Paperback, 257 pages.
ISBN: 0399526021
Ordering information:
Amazon.com.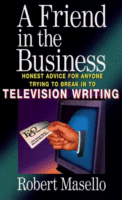 This reference for TV writers covers the inner workings of the lucrative television business and demonstrates how writers can get their foot in the door. The book covers everything writers need to learn and will encounter in the television industry. Topics covered in the reference include writing on spec, agents, staff jobs, credits, collaborating, residuals, script fees and the WGA. Author Robert Masello also devotes several sections to staff jobs in television writing, including finding a job, keeping a job, what to expect, rewrites and salaries.
Robert Masello, an author, journalist and television writer of hit television shows such as
Early Edition
and
Sliders
, shares his experiences and knowledge about the television business in this practical guide. Masello presents the ideas and instruction for writers in the form of often-funny anecdotes from his own experiences, which helps give the writer a very clear view of what the life of a television writer is like. This is a well-written and informative guide to breaking into the television business.
---
Narrative Design by Madison Smartt Bell
W.W. Norton & Company, April 2000.
Trade Paperback, 376 pages.
ISBN: 0393320219
Ordering information
Amazon.com.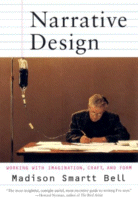 In this unique writer's tool, author and writing teacher Madison Smart Bell analyzes twelve stories by well-known contemporary writers and by his former students. Each short story is provided in full and followed by an analysis of the story's plot (including backstory and present action), characters, dialogue, tone, point of view, time management, suspense, imagery and description and design. Following this analysis is a list of notes which critique the story and tell the reader how each part the story works and does not work. A short glossary of writing terms is also provided.
Narrative Design's
approach should work well for writers looking to improve their fiction. Madison Smart Bell offers a fresh change of pace with this detailed, learn by example writing workshop. Bell's analysis and suggestions help writers learn the elements of the short story and how these elements can be used effectively to tell a great story. Writers can also learn to strengthen their individual weakness in characterization, plot, dialogue, suspense, imagery and tone.
Narrative Design
is a helpful writer's aid that is like having a writing instructor right there beside you.
---
Writing Reviews
Page One |
Page Two
Return to Book Reviews Index
---
More from Writers Write