Writing Book Reviews
Page Two of Two
Plot by Ansen Dibell
Writer's Digest Books, 1999.
Paperback, 170 pages.
ISBN: 0898799465
Ordering information:
Amazon.com.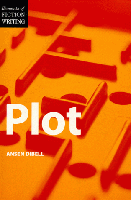 This fiction reference aims to help writers who are having trouble with plotting. Plot problems often result in unfinished stories, stories that seem distant or uninvolving, or in stories that switch to a different plot later on in the story. Author Ansen Dibell tells us that plot problems often fall in two categories: creating plot, and controlling plot. She begins the book by explaining to writers what plot is. She then provides plotting instruction from openings to endings, including methods for controlling plot throughout your story. Some of the plot topics covered in the book include: viewpoint, exposition, subplots, scenes, set-pieces, scenery, melodrama, patterns, pacing and transitions. Dibell points to plots from well-known literature to illustrate how plotting works.
Plot
is a little gem for fiction writers who need help with plotting.
---
Successful Syndication: A Guide for Writers and Cartoonists by Michael Sedge
Allworth Press, April 2000.
Trade Paperback, 183 pages.
ISBN: 1581150512
Ordering information
Amazon.com.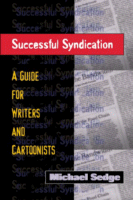 Syndication can provide a generous revenue stream for those who manage to syndicate their work. This reference focuses on syndication for both cartoonists and writers. Coverage in the book includes what to expect, finding a syndication agency, working with a syndicate, guidelines for writers and cartoonists, self-syndication, submissions and using the Internet. A list of syndication agencies is provided with contact information, including email and website information. Also included is a section with sample syndication contracts, contract analysis and other syndication resources.
Michael Sedge has compiled an informative collection of material and advice, including tips from columnists and cartoonists who have had their work syndicated, that will help cartoonists and writers learn about how syndication works and how to get started. The reference only has a small section on the rapidly growing online syndication business, but it does provide information about the traditional syndication business which you should understand before exploring the online syndication world. An excellent guide to understanding and engaging in syndication, this book will be invaluable for those looking to jump into the lucrative syndication business.
---
Writing Reviews
Page One
|
Page Two
Return to Book Reviews Index
---
More from Writers Write
---