Writing Book Reviews
Page Two of Two
The Instant Intellectual by Norah Vincent & Chad Conway
Hyperion, May 1998.
Hardcover, 230 pages.
ISBN: 0786863765
Ordering information:
Amazon.com.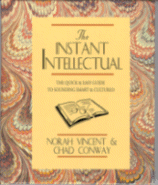 The Instant Intellectual
provides a light look at some common and some unusual foreign phrases that are used in the English language. Arranged alphabetically, the book includes over 200 phrases, one per page, with the phrase, its English translation, brief background information and a sample sentence which shows usage. Some phrases in the book include hara-kiri, savoir-faire, magnum opus and zeitgeist. For example, if you do not feel the recent development of the Internet is a good thing you might be a Luddite, which the book explains is, "Someone opposed to technological progress. From the nineteenth-century movement that disapproved of labor-saving devices."
A fun learning tool or refresher for those who like to control a full repertoire of foreign phraseology. This book would make a great gift for a holiday or special occasion.
---
You Can Write Children's Books by Tracey E. Dils
Writers Digest Books, March 1998.
Trade Paperback, 230 pages.
ISBN: 0898798299
Ordering information:
Amazon.com.
This reference guide to writing a children's book details what you need to know with instructions, examples, exercises, worksheets and outlines. Children's author and editor, Tracey E. Dils, leads the budding writer through instruction on getting started, picture books, chapter books, novels, nonfiction, style and technique, finding a publisher and submitting a manuscript. Highlights of the book include how to make a picture book dummy, creating nonfiction openings that will grab your reader, a character development worksheet, how to research publishers and sample cover and query letters.
You Can Write Children's Books
is an inspiring reference tool for beginning and aspiring children's writers. The book is full of facts, teaching examples and idea provoking exercises which are invaluable for those hoping to make their mark in the children's publishing world.
---
Click Here For Page 1 of Writing Book Reviews
Return to Book Reviews Index
---
More from Writers Write