The Puzzled Heart by Amanda Cross Review
Ballantine, Jan., 1998.
Hardcover, 272 pages.
ISBN: 0345418832.
Ordering information:
Amazon.com.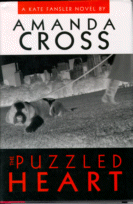 Kate Fansler returns in this sequel to
An Imperfect Spy
, the last entry in the continuing series starring feminist professor Fansler and her attorney husband, Reed Amhearst. The story opens on a shocking note; Reed has been kidnapped and unless Kate follows the instructions of the kidnappers to publish a treatise which will totally destroy her credibility in the academic world, Reed will be killed. Never having faced such a crisis before, Kate turns to her new friend, Harriet Furse who figured prominently in
An Imperfect Spy
. Harriet is an elderly former professor who left academia to pursue her own interests. A devote of John Le Carré, Harriet uses his methods to become a successful private detective, assisted by the fact that in our society elderly women are basically ignored and are therefore invisible. With the help of Harriet, her old friends and a new puppy named Bancroft, Kate sets out to solve the most important mystery of her life while her husband's life hangs in the balance. Although Reed is easily rescued, finding out who was behind the plot is not. And Kate will not be able to relax for one minute while the threat still exists.
Less strident than
An Imperfect Spy
,
The Puzzled Heart
continues the premise that the right wing conservatives will literally do anything -- including resorting to violence -- to silence radical feminists. If you accept that premise, you're in for a real treat. Cross' prose is elegant and crisp and her voice comes through clearly in her erudite dissection of modern society, right-wing conservatives and, of course, academia. In
The Puzzled Heart
Cross (which is actually the pseudonym for outspoken feminist professor Carolyn Heilbrun) breaks new ground in the series by showing us a totally different side of the flawless Kate Fansler. This is a Kate Fansler with all of her defenses removed: vulnerable, confused and not sure of what to do. She even falls in love with a Saint Bernard puppy! But she doesn't fall apart, and regains her customary aplomb just in time. It is a mesmerizing character development of one of mystery's favorite female characters. The new facets of Kate's personality are endearing and render the seemingly perfect Kate more likeable, more approachable to readers. Cross fans will be delighted.
---
More from Writers Write
---