The Perfidious Parrot Review
The Perfidious Parrot
by Janwillem Van De Wetering
SoHo Press, Oct., 1997.
Hardcover, 288 pages.
ISBN: 1569471029.
Ordering information:
Amazon.com.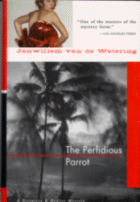 In this 14th entry into the Amsterdam Cops Series the notorious pair of detectives Grijpstra and de Gier and their former superior officer the Commissaris have retired from the police force after finding a secret cache of dollars hidden by some long-gone and not-missed drug dealers. Operating a detective agency merely as a front to explain their increased income to the tax authorities, they while away the days in idleness until one day a mysterious father and son team arrive on their doorstep and demand that Grijpstra and de Gier investigate the highjacking of their supertanker in the Dutch Caribbean. Uninterested in exerting themselves, the pair declines the offer in order to continue their leisurely pursuit of retirement until their unwanted clients resort to blackmail and scare tactics to force G & G, Inc. to take the case. De Grijpstra, de Gier and the Commissaris set off on a journey to find the pirates of the supertanker following a dangerous trail that will take them from the strip clubs of Key West to the islands of St. Eustatius and Aruba. The unwilling detective team finds more than it bargained for, however. Not only do they discover a heinous plot involving piracy and murder, but they also discover something they thought they had lost: a conscience.
Written in van de Wetering's inimitable style,
The Perfidious Parrot
is a glorious romp through the tropics which dips into the murky waters of Zen philosophy and the exploration of conscience. Satirical, dry, and oftentimes hilarious, the adventures of the two ex-cops and their mentor and money-manager the Commissaris is a welcome respite from the normal, everyday world. Indulge and Enjoy.
---
More from Writers Write
---