Someplace to be Flying by Charles De Lint Review
Tor, Feb., 1998.
Hardcover, 384 pages.
ISBN: 0312858493.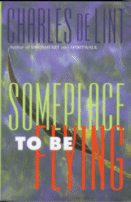 In the fictional North American town of Newford, Lily, a photojournalist, and Hank, a taxi driver meet in an unexpected encounter when Hank tries to save Lily from a violent assailant. Things look pretty grim when they are both saved by two mysterious girls who kill the assailant and magically heal their wounds before disappearing into the night. As Lily and Hank try to make sense of the odd encounter they come to realize that their mysterious saviors weren't human at all; they are animal people, the shapeshifters described in Native American myths and legends. As Lily and Hank delve more deeply into the mystery of the existence of the animal people and why only certain people can see them they realize that not all the animal people are benevolent and that they are in danger from a rival faction. Now Lily and Hank, with the help of their newfound friends must find out what the evil animal people are after and how they can thwart their plans which, if successful, could have devastating consequences for the entire world.
Charles de Lint, acclaimed for his work as a pioneer of the urban fantasy movement, has created another stunning tale of magic, love and the search for meaning in our modern-day existence. De Lint's greatest gift is his ability to weave ancient myths into the fabric of contemporary urban life, resulting in a compelling, complex story. Someplace to be Flying is a captivating look at a magical world that enlightens as much as it entertains.
Ordering information: Amazon.com.
---
More from Writers Write
---