Rough Justice by Lisa Scottoline Review
HarperCollins, Sept., 1997.
Hardcover, 272 pages.
ISBN: 0060187468.
Ordering information:
Amazon.com.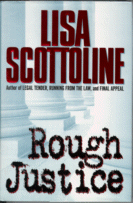 Everything is going perfectly for Marta Richter. She has all but won an acquittal on a murder charge for her client, a wealthy and handsome banker named Elliot Steere, with whom she is quickly falling in love. Then, suddenly, Marta's life goes into a tailspin when Steere lets her know that he has been guilty of murder all along. Marta immediately vows to turn the tables on her client and find evidence of his guilt, but finds it difficult when Steere sends a henchman after her and the all-woman law firm where she works. The clock is ticking as Marta finds herself eluding a killer in the midst of a ferocious blizzard while risking her career to find evidence of her client's guilt.
Rough Justice
is an exciting legal thriller, full of action, deceit, interesting characters and plot twists. Marta Richter, the brave and determined attorney, is a wonderful character that will be loved by fans of the thriller genre. An entertaining, action-packed read.
---
More from Writers Write
---