Romance Book Reviews
Page Two of Two
Enchanted, Inc. by Shanna Swendson
Ballantine, June, 2005
Trade paperback, 308 pages
ISBN: 0345481259
Subgenre: Paranormal
Ordering information:
Amazon.com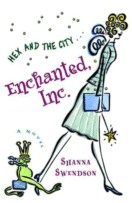 Katie Chandler is a sensible Texas girl, who ran her parents' store for years. She doesn't have a Harvard MBA, though, so her new business associates in New York aren't terribly impressed with her. And Katie is definitely not impressed with her current job as an executive assistant to Mimi the marketing manager from hell. When she's not depressed about her horrible job situation, Katie is always noticing really strange things in the city that no one else seems to see: like girls with real fairy wings and a stone gargoyle who isn't always on top of the same building. When Katie gets a mysterious job offer via email, she thinks it's spam and deletes it. But eventually she is convinced to take a position as a Verifier at MSI, Inc. (Magic, Spells and Illusion, Inc.) a wholesaler of benevolent spells. Katie is uniquely qualified -- she's what the magical world calls an Immune, someone on whom illusion spells don't work. That makes her very useful for verifying contracts and spotting invisible competitors. But Katie's new job is a lot more dangerous than it looks.
In the first book in her new "Hex in the City" series, Shanna Swendson creates a charming, likeable heroine in Katie and throws her into a wild world of spells, sorcery and urban warfare. This is not the dark urban fantasy of Laurell K. Hamilton: this is the lighter, funnier, G-rated end of the spectrum. Shanna Swendson is especially good with dialogue, and Katie's adventures with the paranormal and the singles scene in New York make for very funny reading. At first Katie is crushed to learn that although magic exists, she doesn't have one iota of it, but she soon realizes that what she thinks of as her "ordinariness" makes her very special indeed. And that's not such a bad lesson for any girl to learn.
---
The Truth About Love by Stephanie Laurens
William Morrow, March, 2005
Hardcover, 392 pages
ISBN: 0060505753
Subgenre: Historical
Ordering information:
Amazon.com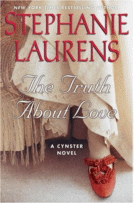 In 1831 London, Gerard Reginald Debbington is the ton's foremost landscape painter. Gerrard is miffed when his offer to immortalize the legendary gardens of Hellebore Hall is turned down by Lord Tregonning. But Lord Tregonning dangles a carrot in front of the painter: if Gerrard will agree to paint a portrait of Tregonning's daughter, then Gerrard will be allowed to paint the gardens. Gerrard reluctantly agrees, expecting Jacqueline Tregonning to be an addlepated, shallow girl who thinks only of parties and frocks. He is thoroughly shocked when he finds out that Jacqueline is as fascinating as she is beautiful, and he quickly falls for her. But evil rumors say that Jacqueline killed her mother and her former fiancé, and the whispering campaign is intensifying. When a body shows up in the Hellebore Gardens, Gerrard determines to find the real killer and prove that Jacqueline is innocent.
Stephanie Laurens weaves a sensual gothic undertone in her latest entry in the wildly popular Cynster series. Her interesting plot device of having the hero be a painter who falls in love with the wrongly accused heroine works like a charm. There is an air of danger and suspense in the story that gives it a certain spice. It is also refreshing to see a couple who don't actually hate one another on sight, but instead work towards a common goal. Stephanie Laurens gets the moody atmosphere and the passionate relationship just right in this civilized, absorbing tale of love, murder and suspense.
---
Romance Book Reviews
Page One
|
Page Two
---
Return to Book Reviews Index
---
More from Writers Write