Romance Book Reviews
Page One of Two
Carpe Demon: Adventures of a Demon-Hunting Soccer Mom by Julie Kenner
Berkley, July, 2005
Trade paperback, 368 pages
ISBN: 0425202526
Subgenre: Paranormal
Ordering information:
Amazon.com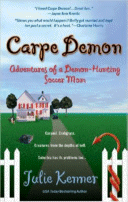 Kate Connor is living the classic suburban dream. Married to an attorney with political aspirations, she spends her time running carpool, doing laundry and running after her 14 year-old daughter Allie and her 2 year-old son, Timmy. But Kate has quite a secret in her past. Trained by the Vatican in Rome, Kate spent the early years of her life as a Demon Hunter. She married a fellow hunter, Eric, and had Allie, her first child. After Eric was killed, she remarried, moved to San Diablo, California, and managed to put her Level Four Demon Hunter past behind her -- until a demon shows up during a grocery shopping trip, then breaks into her house to try to kill her. Kate quickly dispatches the Demon, just in time to serve hors d'oeuvre to her arriving guests. It's clear that something weird is going on in San Diablo. Sure enough, Kate finds out that the High Demon Goramesh is in town and hunting for an ancient relic that will allow him to decimate the town and increase his power. It looks like Kate is about to be drawn back into her demon-slaying days: only this time, she has to hunt monsters in between running errands and changing diapers.
Julie Kenner mixes chick-lit,
Buffy the Vampire Slayer
and elements of a domestic cozy to create a new subgenre all its own, with very entertaining results. San Diablo is chock-full of religious relics, and it's Kate's job to protect them and her family from this new threat. Kate narrates the story in a wry, self-deprecating, very funny voice that makes Kate quite endearing. Her matter of fact tone as she scrambles to hide the dead demon body in the pantry while whipping up tasty appetizers for an impending cocktail party is truly hilarious. This is just the beginning of what's sure to be a very popular new series.
---
A Connecticut Fashionista in King Arthur's Court by Marianne Mancusi
LoveSpell, May, 2005
Paperback, 340 pages
ISBN: 0505526336
Subgenre: Time Travel
Ordering information:
Amazon.com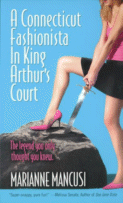 Kat Jones loves fashion and she loves her job as associate fashion editor at La Style magazine. But she's less than thrilled with her assignment in upstate New York to cover King Arthur's Faire and write about medieval fashions influences on today's looks. Succumbing to her photographer's entreaties, Kat enters a gypsy's fortune telling tent. But her sassy attitude ticks off the fortuneteller, who is much more than she seems. Within just a few minutes, Kat finds that she's been hurled back in time to the real King Arthur's Court in Camelot. Naturally, the fortune teller is nowhere to be found. Faced with the real King Arthur, a handsome Lancelot and a likeable and very young Guenivere, Kat finds that the history books didn't exactly get it right. Will her passion for Lancelot destroy history? And will she ever get those mud stains out of her Manolo Blahnik shoes?
Chick lit meets time travel romance in this light-hearted and highly amusing story from Marianne Mancusi. The irrepressible Kat narrates her unlikely adventures with wit and flair. Her attempts to stay on a low-carb diet in the land of bread and mead are especially funny. Although Kat can be a bit obnoxious at times, she does have a good heart and actually worries that her actions might change history. And when Kat gets to meet the Lady of the Lake at Avalon, readers realize that if Ms. Mancusi felt like it, she could easily write an excellent straight fantasy. The spicy dialogue and fast action make this a perfect beach read.
---
Romance Book Reviews
Page One |
Page Two
---
Return to Book Reviews Index
---
More from Writers Write
---