Romance Book Reviews
The Internet Writing Journal
Page One of Two
The Duke and I by Julia Quinn
Avon, Jan., 2000.
Paperback, 371 pages.
ISBN: 0380800829.
Ordering information:
Amazon.com.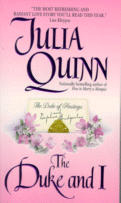 Simon Bassett, the Duke of Hastings, had a terrible childhood. A stutterer, Simon was shunned by his father who thought he was a moron. Actually, Simon is extremely intelligent, earning a first in mathematics at Cambridge. But Simon has never forgotten his father's rejection, and refuses to reconcile with him before his death. He also vows never to marry or have children. Enter Daphne Bridgerton, whose mother is determined to find her a suitable husband. When Daphne and Simon meet they decide to fake an attachment, so that other suitors will find Daphne more attractive and so that Simon is spared the attentions of the matchmaking mothers of the ton. But the sham soon turns into the real thing. Can an avowed bachelor give up his solitary ways for the woman he loves?
The Duke and I
is Julia Quinn's best work to date, which is really saying something considering the fact that she is also the author of the immensely popular
How to Marry a Marquis
and
Brighter Than the Sun
. The dialogue is crisp and funny, and the story has real heart. You'll fall in love with Simon, the shy little boy who grew into a devastatingly handsome and outwardly cold man, who just needs some tender, loving care. With fiery passion and great fun, this is a story you'll reread many times over the years. Highly recommended.
---
Forever in Your Embrace (Author's Preferred Version) by Kathleen E. Woodiwiss
Avon, November, 1999.
Hardcover, 596 pages.
ISBN: 0380978318.
Ordering information:
Amazon.com.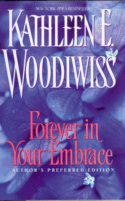 In 1620 Russia, the Countess Synnovea is mourning the death of her father. The Tsar, thinking to help her, sends Synnovea off to the be the ward of his cousin, Princess Anna. But Anna despises the young and beautiful Synnovea and her husband, Prince Aleksei, is a dreadful lecher. Virtually a prisoner in her new home, Synnovea's thoughts turn to the handsome British officer, Colonel Tyrone Rycroft, who saved her from bandits on the long and dusty road to Moscow. Princess Anna is opposed to Colonel Rycroft courting Synnovea, and has other plans for her despised ward. Soon, Synnovea and Tyrone are drawn into a complex game of intrigue in the Tsar's court, while their passion for one another grows daily. With so many people determined to keep them apart, the pair must show great courage and ingenuity to find a way to stay together forever.
Forever in Your Embrace
was originally published in paperback in 1992. This hardcover re-issue is the author's preferred edition; it is expanded and revised in parts -- with breathtaking results. Woodiwiss' writing style is unmistakable. Her books are told on a sweeping and grand scale, with a simmering sensuality that underlies every scene. Lovers of historical romance will delight in this re-issue of an old favorite.
---
Romance Reviews
Page One |
Page Two
Return to Book Reviews Index