Romance Book Reviews
Page One of Two
Glory by Heather Graham
Topaz, Feb., 1999.
Paperback, 352 pages.
ISBN: 0451408489.
Ordering information:
Amazon.com.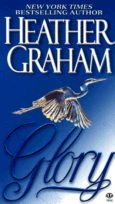 Floridian and staunch Federalist supporter Rhiannon Tremaine has suffered greatly because of the Civil War -- she lost her beloved husband, and unintentionally developed an addiction to opium. Known as a white witch locally because of her skill at healing and with the local herbs, she is forced to help heal Confederate soldiers when Doctor Julian McKenzie invades her home. McKenzie kidnaps her, helps her kick her opium addiction, and finally allows her to go north to help the Union as a nurse. But Rhiannon is blessed with second sight -- and she forsees great danger for the Confederate doctor she has come to love. Will she help an enemy as he helped her?
This is the latest entry in the popular Florida series. Rhiannon and Julian are a passionate couple, whose travails make for an engrossing read. The backdrop of the Civil War adds a gritty reality to the story. The characters are well-drawn, and we meet familiar faces from the McKenzie saga. Another thrilling entry in this wonderful series which will have readers breathlessly awaiting the next installment, due out in late 1999.
---
How to Marry a Marquis by Julia Quinn
Avon, April, 1999.
Paperback, 375 pages.
ISBN: 0380800810.
Ordering information:
Amazon.com.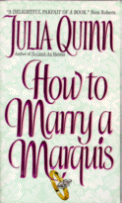 In 1815 England, Miss Elizabeth Hotchkiss needs to find a wealthy husband -- right away. Orphaned, with three brothers and sisters to support, she is fast running out of funds. Her job as companion to irascible but kindly Lady Danbury doesn't pay enough to support her whole family and she refuses to palm her siblings off on other relatives. When she finds a book in Lady Danbury's library entitled
How to Marry a Marquis
, it seems as if fate is taking a hand. But Fate must have a twisted sense of humor. Enter James Sidwell, Marquis of Riverdale, who is masquerading as Lady Danbury's estate manager at her request to ferret out a blackmailer. James declares his intention to help Elizabeth find a husband by allowing her to practice on him the procedures recommended by the book, a sort of
The Rules
rewritten for Regency England. But the more he helps her look for a wealthy husband, the less enthusiasm he can muster for the task. And Elizabeth, with more pride than is good for her, is stubbornly set on her course, and steadfastly ignores the sparks that fly between them whenever they meet. It's up to Fate to lend a hand and help two stubborn, yet attractive people bow to the inevitable.
When
The Rules
was published a few years ago, thousands of women followed its advice, never calling men for the first date, letting him make the first move etc. When Elizabeth Hotchkiss finds the same sort of book, all hell breaks loose. The premise of the book is quite clever and the supporting characters are delightful (especially Lady Danbury). But it is the beautiful, accident-prone Elizabeth that steals the show in this book. Her interactions with James are wittily written and entertaining to read and the passion is fiery.
How to Marry a Marquis
is a funny, charming and altogether captivating romance.
---
Click here for Romance Reviews Page Two
Return to Book Reviews Index
---
More from Writers Write
---