Romance Book Reviews
The Internet Writing Journal
Page One of Two
Brighter Than the Sun by Julia Quinn
Avon, Dec. 1997.
Paperback, 376 pages.
ISBN: 0380789345.
Ordering information:
Amazon.com.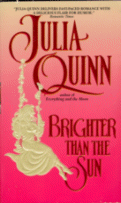 In 1817 England, Charles Wycombe, Earl of Billington is in desperate need of a bride before his upcoming 30th birthday, otherwise his very substantial inheritance will go to his detestable cousin. Deep in his cups to drown his sorrows he falls -- quite literally -- upon the solution to his problem. Miss Eleanor Lyndon needs a new home immediately. Her father the vicar's impending nuptials to the autocratic Mrs. Foxglove will make living at home a nightmare. Forced together by circumstances, Eleanor and Charles marry, each expecting a marriage of convenience. What they find, however, is an unanticipated passion and a web of intrigue as it appears someone is trying to murder Charles.
Brighter Than the Sun
is a warm, witty and wonderful tale from talented author Julia Quinn. Her greatest skill is in the blending of humor with utterly captivating characters who brim with life. A fun and charming read.
---
Damask Rose by Haywood Smith
St. Martin's Press, May 1998.
Paperback, 304 pages.
ISBN: 0312964986.
Ordering information:
Amazon.com.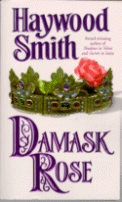 In 1430 Scotland, the MacDougalds and the MacKays have been in a bitter blood feud for years. When his family's home was attacked by the MacDougalds, Tynan MacKay was captured as a small boy and forced to live as a virtual slave to the hated MacDougalds. When the Laird of the MacDougalds finds out that he has a granddaughter who lives on the Isle of Skye with her mother who fled her vicious husband, Tynan is determined to find the granddaughter of his enemy, regain his lands, then kill her to in front of her grandfather, his sworn enemy. Tynan finds the Laird's granddaughter, Nara, and sets out on the long journey to bring her to her death. But what he doesn't count on is the affection and passion he will find with Nara, and he must ultimately choose between love and his vow to his Clan.
Damask Rose
is a sweeping historical romance which will thrill lovers of the subgenre. Haywood Smith is brilliant at creating a captivating, haunting atmosphere which seem so real that you can almost see the mists of the Highlands swirling around the couple as they make their way towards their destiny. With blistering passion and an emotional content that will tug at your heart,
Damask Rose
is a novel that you won't want to end.
---
Romance Reviews
Page Two

Return to Book Reviews Index