Romance Book Reviews
The Internet Writing Journal
Page Two of Two
Highland Hawk (Highland Brides) by Lois Greiman
Avon, January, 2000.
Paperback, 371 pages.
ISBN: 0380803674.
Ordering information:
Amazon.com.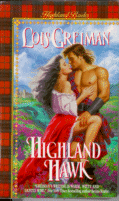 In 1524 Scotland, beautiful gypsy Catriona is on a terrible mission. A mysterious scoundrel known only as Blackheart has kidnapped her brother, Lachlan, and is holding him captive until Catriona convinces Scotland's boy king James to go on an outing where Blackheart will capture him. Catriona does not wish to harm her longtime friend, the king, but she is desperate to get her brother back. So she plays a dangerous game while at court -- trying to find a blackmailer and find a way to release her brother. Haydan MacGowan, known as the Hawk, is the Captain of the King's Guard. He knows Catriona is up to something, and determines to find out what. As the Hawk and Catriona become better acquainted, they realize they are very attracted to one another. But will passion be enough to keep them together, when treason is in the air?
Lois Greiman has a gift for bringing the Scottish Highlands of the 1500s to life (
See
,
Highland Enchantment
and
Highland Scoundrel
). Catriona, the gypsy lass who charms a dedicated warrior, is a treat to watch in action, and the Hawk is someone to swoon over. Lovers of historical romance in the Middle Ages shouldn't miss this one.
---
Once and Forever by Constance O'Day Flannery
Avon, Nov., 1999.
Paperback, 374 pages.
ISBN: 0380801701.
Ordering information:
Amazon.com.
Maggie Whitaker's life is not going so well. About to turn 40, she's divorced, out of a job and on the precipice of financial ruin. But then Maggie receives a letter from her Aunt Edithe with an airline ticket to England enclosed. Deciding for once in her life to be spontaneous, Maggie jets off to England to see her aunt who is a holistic healer and very into new age beliefs. Maggie agrees to dress in costume and attend a Renaissance faire with her Aunt Edithe and Edithe's lover, Malcolm. Maggie gets lost in a maze, and ends up in the year 1598, where she runs right into a charming knight and his horse. Nicholas Layton is quite handsome, but Maggie is convinced he's just an actor at the Renaissance faire -- nevertheless, she accompanies him to the nearest home. At Greville Manor, everyone seems to think she is Lady Margaret who has arrived a bit early from France to marry a loathsome character, Lord Robert. Can Maggie find her way back to the year 2000, and to her true love, Nicholas?
Once and Forever
is a charming time travel romance, set in Elizabethan England. O'Day-Flannery has a romantic soul, and her writing reflects this. Maggie's story will especially resonate with the over 35 crowd. And, although one might quibble a bit with the ending, overall it's a wonderful journey.
---
Romance Reviews
Page One
|
Page Two
Return to Book Reviews Index