Reviews of Writing Books
Page One of Two
The Business Writer's Book of Lists by Mary A DeVries
Berkley, May 1998.
Trade Paperback, 333 pages.
ISBN: 0425163121
Ordering information:
Amazon.com.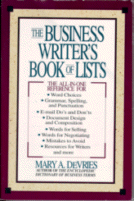 Poor writing skills is a weakness that can limit your business career. To help you overcome possible pitfalls, this business writing reference is packed with practical advice in the form of lists that contain examples, suggestions and proper word usage. The book includes 80 different lists including common objectives in business messages, problem language that may weaken your message, ways to arouse reader interest, composing a bad-news letter, do's and dont's for sending email messages, final draft checklist, stale cliches, word phrases that detract from readability and many others. Topics addressed in the book also include coverage of grammar, punctuation and spelling. Also included is a reference library containing lists of information technology abbreviations, math signs and symbols, metric weights and measures and Greek letter symbols.
The Business Writer's Book of Lists
is a must have for anyone who engages regularly in any kind of business correspondence.
---
The Internet Handbook for Writers, Researches and Journalists by Mary McGuire, Linda Stilborne, Melinda McAdams and Laurel Hyatt
The Guildford Press, Jan., 1998.
Trade Paperback, 242 pages.
ISBN: 1572303328
Ordering information:
Amazon.com.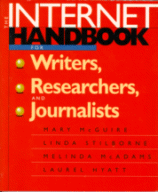 Research is an integral part of the career of any writer or journalist. This guidebook provides an excellent introduction for writers looking to start using the Web for research. The book covers topics that range from getting connected to the Internet to writing for the Web. Subjects addressed in the book include web browsers, navigating the web, search strategies and techniques, libraries on the net, databases, e-mail, Listservs, newsgroups, managing online information, creating a webpage and a large resource section with descriptions and web addresses. The book also includes a useful glossary of internet terms.
The Internet Handbook
is a great book for those who are in the early stages of their online research who need coaching on related subjects from logging on to surfing the web -- without the technical jargon. It is also a solid reference of research and media oriented websites. An excellent book to have handy when its time to start that big research project.
---
Click Here For Writing Book Reviews Page Two
Return to Book Reviews Index
---
More from Writers Write