Reviews of Writing Books
Page Two of Two
The Weekend Novelist Writes a Mystery by Jack Remick and Robert J. Ray
Dell Books, May 1998.
Trade Paperback, 272 pages.
ISBN: 0440506581
Ordering information:
Amazon.com.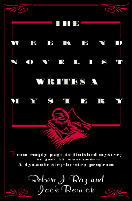 This reference book and writing program invites you to write your own novel along with the authors, mystery novelists Robert J. Ray and Jack Remick, as they also write a mystery novel. The book is divided into 52 weekends or mini-courses. Each weekend in the book provides instruction, examples and exercises to help the writer create his or her own mystery novel. Numerous novel development skills are approached in the book including plot, setting, conflict, character development and dialogue, to name a few. Each weekend provides instruction on a new development of the novel, with examples from the author's own write-along novel. Writing samples from well-known mystery novels are also provided to enchance the instruction.
The Weekend Novelist Writes a Mystery
is packed with excellent writing tips, inspiration and instruction which are certain to motivate any writer who writes along with the authors from start to finish. Aspiring mystery authors who haven't been able to find the discipline or get into the routine necessary to complete a novel should definitely give this unique and well-crafted writing program a try.
---
You Can Write Poetry by Jeff Mock
Writer's Digest Books, May 1998.
Trade Paperback, 119 pages.
ISBN: 0898798256
Ordering information:
Amazon.com.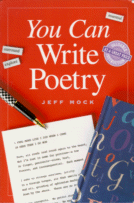 With its exercises, inspirational advice and sample poems, this poetry aide, by creative writing professor, Jeff Mock, will encourage poets to write rich and imaginative poems. Instruction in the book covers structure, style, grammatical errors, imagery, punctuation and manuscript submission. Exercises in the book encourage readers to create poems. For example, this exercise: "Write a draft about a busy intersection. Use only everyday words, slang and street language. Include a windblown newspaper in the draft," provides the writer with content for the draft (slang, the windblown newspaper, busy intersection) so the writer does not get stuck but still allows for plenty of creativity of his own.
You Can Write Poetry
is an inspiring exercise and instruction book that will benefit any novice poet.
---
Click Here For Writing Book Reviews Page One
Return to Book Reviews Index
---
More from Writers Write