Reviews of Writing Books
Page Two of Two
The Insider's Guide to Getting an Agent by Lori Perkins
Writer's Digest Books, September, 1999.
Trade Paperback, 244 pages.
ISBN: 0898799090
Ordering information:
Amazon.com.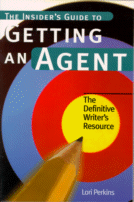 Authors always have questions about the process of getting an agent, and about what exactly an agent can do for their writing career. This reference book provides answers to commonly asked questions about agents and other subjects related to the business of getting published, including the business behind book publishing, instruction on what agents do, finding an agent, how to submit your work to an agent, what to expect, the first sale, changing agents and managing your writing career. The book also provides instruction and tips for writing query letters and book proposals. Features in the guide include a list of agent etiquette do's and don'ts, a checklist for your career, a section on what to do when disaster strikes (such as a cancelled book, declined option or publisher merger), and sample agreements and proposals.
Author Lori Perkins is a literary agent herself -- she is the founding partner of Perkins, Rubic and Associates, the New York literary agents. Lori provides a great overview of the business behind the publishing process and gives top-notch advice for writers to help them find an agent and develop a successful writing career.
The Insider's Guide to Getting an Agent
is a must-read for any author looking for representation.
---
Selling Scripts to Hollywood by Katherine Atwell Herbert
Allworth Press, August, 1999.
Trade Paperback, 155 pages.
ISBN: 1581150253
Ordering information:
Amazon.com.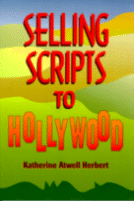 Selling Scripts to Hollywood
provides instruction to budding screenwriters looking for information on everything from where to begin to how to write a screenplay. Some of the subjects addressed in the book include an introduction to screenwriting, the business of screenwriting, screenwriting resources and references, screen and teleplay formats (with full-page samples), screenplay software, revising, agents and what to expect. The book also provides website links, addresses and phone numbers for the top Hollywood agencies and a list of some of the best screenplay competitions.
Author, Katherine Atwell Herbert, who has written episodes for
Trial by Jury, Murder She Wrote
and
Quantum Leap
, gives valuable advice for beginning screenwriters who need answers to commonly asked questions about everything from formatting a screenplay to finding an agent. Herbert provides answers to these questions and gives practical advice that gives beginners the guidance and knowledge they need to make it in the screenwriting world.
---
Writing Book Reviews
Page One
|
Page Two
Return to Book Reviews Index
---
More from Writers Write
---