Pray for Us Sinners by Philip Luber Review
Fawcett Books, Feb., 1998.
Paperback, 294 pages.
ISBN: 0449183297.
Ordering information:
Amazon.com.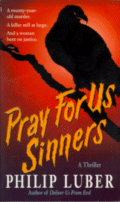 This is the third entry in the series starring psychiatrist Harry Kline and FBI agent Veronica Pace, following
Forgive us our Sins
and
Deliver us From Evil
. When Veronica was only nine years old, she was forced to watch the brutal murder of her mother by a masked assailant in their own home. The crime was never solved and Veronica has been haunted by it ever since. Twenty years later, Veronica is now in a position to investigate the unsolved crime. Using her expertise gained as an FBI agent, Veronica is intent on finding her mother's killer. Against Harry's wishes, she takes a leave of absence to pursue her investigation. Concerned about Veronica's state of mind and her motives for finding the killer, Harry agrees to help with the investigation. As they delve into the old police records and start visiting old witnesses, a trail that should by all rights be stone cold begins to heat up as the pair uncovers some disturbing facts which throw new light on the old crime and on some of Veronica's current acquaintances and family. As the investigation progresses, it becomes clear that this is one murderer who was only sleeping and has now been awakened by the duo's investigation into the past. As the violence and betrayals escalate, Harry and Veronica must face their own sorrows and fears while finding a cunning and elusive murderer.
Luber's skill as a forensic psychologist is readily apparent in his latest novel. Someone who actually interviews killers for a living, Luber has a special ability to get inside the minds of his characters and portray their inner struggles and complex emotions in a way that is unique. Told from Harry's point of view, the story hooks the reader into Luber's created world immediately and irrevocably. Harry tells the story of his amateur detecting escpades with a shrewd and self-deprecating humor which will endear him to readers. Especially intriguing is Harry's relationship with a local Mafioso who just happens to live in the house where Veronica's mother was murdered. A morality play with lots of action and a compelling emotional plot,
Pray for Us Sinners
firmly establishes Luber as an authoritative and compelling voice in the mystery/thriller genre.
---
More from Writers Write
---