Nonfiction Book Reviews
Page Three of Three
Write it Down, Make it Happen by Henriette Anne Klauser
Scribner, January 2000.
Hardcover, 250 pages.
ISBN: 068485001X.
Ordering information:
Amazon.com.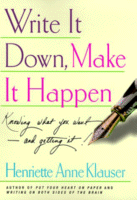 Have you ever had a goal you wanted to achieve, but just couldn't seem to get started? Or do you know you want to make changes in your life, but don't know what kind of changes you really need?
Write it Down, Make it Happen
is a self-help book that provides concrete, easy to follow steps for reaching those important goals and improving your life. The author provides instruction, exercises and tips that help The book provides examples of real-life successes who recorded their goals and were able to reach them using these techniques. you learn how to use writing to achieve your goals. Also covered are goal-oriented writing topics such as gathering ideas, writing lists, creativity, writer's block, journaling, starting a group and writing letters to God.
Henriette Anne Klauser, Ph.D., a professional speaker, writer and president of Writing Resources, a seminar and consulting organization, really knows her topic and her ideas are fresh and invigorating. Her style is friendly and supportive; it's like having the author looking over your shoulder cheering you on in your endeavors. This is a great motivational and inspirational tool for anyone who's looking to increase the quality of his or her life. Highly recommended.
---
Zen and the Art of Poker by Larry W. Phillips
Plume, January 2000.
Paperback, 175 pages.
ISBN: 0452281261.
Ordering information:
Amazon.com.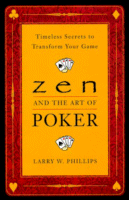 It may sound unusual but the fundamentals of Zen do also apply to Poker, as readers of this guide to improving your game will find out. Zen philosophies of stillness, calmness and patience can really improve one's game, for example patience teaches the poker play to often fold their hand, which is counter to the gambler's instinct to want to play each hand. The guide also includes many other strategies in addition to the patience and folding often strategy and shows how Zen philosophy can be applied to each one. The strategies are introduced to the reader as rules. Some of these rules include, "Don't expect a certain card to appear", "Detach yourself emotionally from the game", "Prolong the time spent looking at your cards" and "Play tight and defensively until you have something - then bet a lot."
Larry W. Phillips, a professional poker player and journalist, provides 100 rules of the game for readers to learn poker skills and strategies for winning. The addition of Zen philosophy to his poker playing advice makes these strategies more effective and the book very interesting to read. An excellent guide for poker players looking to improve their game.
---
Nonfiction Reviews
Page One
|
Page Two
|
Page Three
Return to Book Reviews Index
---
More from Writers Write