Nonfiction Book Reviews
Page Two of Three
Red Flags, How to Know When You're Dating a Loser by Gary S. Aumiller, Ph.D., and Daniel A. Goldfarb, Ph.D.
Penguin, September 1999.
Trade Paperback, 272 pages.
ISBN: 0452281172.
Ordering information:
Amazon.com.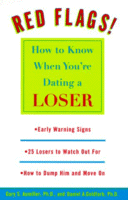 This is the book that every mother wants to give to her daughter, that every woman wants to give to her best girlfriend and absolutely every woman wants to own. Written by Dr. Gary Aumiller and his colleague, Dr. Daniel A. Goldfarb, two authors who specialize in the techniques used in detective work and law enforcement, this book should be required reading for single women of all ages.
In order to spot the abuser, the rescuer or the leech the authors give a checklist that is very interesting. The checklist begins with family background, goes on to work/school history friendships, behavior, conversation and how he acts when confronted. Each characteristic is given a scoring number which can be compared to a total score. The checklists are rather extensive and should give a usable profile of a personality type.
Red Flags
is a good book to sit down and read for one's general education in human nature, but its real value lies in having it for a reference book. One never knows. A promising new acquaintance might not pass the test, or then perhaps he will.
--Sarah Reaves White
---
Skies of Fury by Patricia Barnes-Svarney and Thomas E. Svarney
Touchstone, September 1999.
Trade Paperback, 224 pages.
ISBN: 0684850001.
Ordering information:
Amazon.com.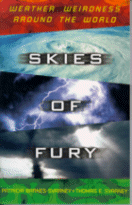 Weather fans will adore this treasure of weather facts, information and unusual trivia.
Skies of Fury
covers exciting and unusual weather conditions such as tricks of light, weird cloud formations, snowstorms, thunderstorms, lightning, winds, tornadoes, hurricanes and space weather. The book also covers lesser-known phenomena such as fulgurites, microbursts, gustnadoes, mountainadoes, sandstorms, rogue waves and solar storms. Each section also includes lists of unusual weather phenomena, charts and weather records. Some examples of these include a list of billion-dollar U.S. hurricanes, hot and cold records (the highest temperature ever recorded on earth was 136.4°F in the Sahara Desert), a chart of the Fujita scale for measuring the strength of tornadoes and a list of drought records.
Top science writers Patricia Barnes-Svarney and Thomas E. Svarney have done an excellent job of collecting and organizing weather facts and unusual occurrences with easy to understand scientific explanations and terminology.
Skies of Fury
is a wonderful reference for weather fans and amateur meteorologists.
---
Nonfiction Reviews
Page One
|
Page Two
|
Page Three
Return to Book Reviews Index
---
More from Writers Write