Nonfiction Book Reviews
Page Four of Four
The Filmmaker's Handbook by Steven Ascher and Edward Pincus
Plume, March 1999.
Trade Paperback, 614 pages.
ISBN: 0452279577.
Ordering information:
Amazon.com.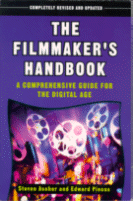 This comprehensive reference book for filmmakers contains information on the technology used in movie making. The book covers numerous filming technologies including film and video systems, the film camera, the lens, the film image, color and filters, the video camera, the video image, shooting, sound recording techniques, lighting, editing film, editing video, sound editing, production and film distribution. The text is enhanced with photographs, charts, graphs and examples to help explain technical concepts.
The Filmmaker's Handbook
is a thorough reference to the video and film techniques and technologies behind movie making and how this technology is used to make great movies. A valuable reference for commercial, independent and novice filmmakers.
---
The Mentor: 15 Keys to Success in Sales, Business, and Life by Jack Carew
Plume, January 1999.
Paperback, 208 pages.
ISBN: 0452280214.
Ordering information:
Amazon.com.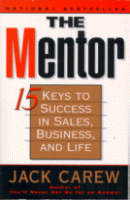 The Mentor
contains practical advice about key elements in sales and business as well as in one's everyday life. Author Jack Carew, a business veteran, presents the information in the book in a question-and-answer format which allows Carew to answer questions from beginners who are trying to learn how to sell. Carew begins with the advice that "Life is a sales call," explaining that in every aspect of our lives we are selling someone about our beliefs and ideas and about ourselves. "Life is a Sales Call" is the first of Carew's 15 keys to success which also include "Admire Yourself First," "Achieve Preferred Position," "Discover their Dreams," "Close with Courage" and "Bounce Back from Rejection." A chapter is devoted to each of the keys to success, in which Carew explains the concept and provides advice and encouragement.
The Mentor
is an inspirational and practical reference on learning the art of selling. Recommended for anyone looking for an edge when selling and for those just starting out in sales and need to learn proper sales strategies and techniques.
---
Nonfiction Reviews
Page One
|
Page Two
|
Page Three
|
Page Four
Return to Book Reviews Index
---
More from Writers Write