Nonfiction Book Reviews
Page One of Four
Clearly Delicious by Elizabeth Lambert Ortiz
DK Publishing, January 1999.
Trade Paperback, 143 pages.
ISBN: 0789437511.
Ordering information:
Amazon.com.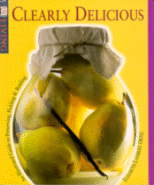 Clearly Delicious
is a photographic guide to preserving, pickling and bottling which also contains contains instruction, procedures and recipes. The book provides instruction through full-color photographs and step-by-step examples for topics including: preserving and bottling equipment, jams and jellies, using fruits in alcohol, flavored drinks, pickles, relishes, mustards, oils, vinegar, herbs and spices. The book also includes a special decorating and presentation section to help you create delightful gifts. Some of the 200 recipes in the book include red currant jam, strawberry preserves, three-fruit marmalade, cranberry butter, cherry brandy, kiwi-passion fruit syrup, pickled horseradish, banana chutney, corn relish, English mustard, fiery chili oil, garlic vinegar, five-spice powder and spice blend.
This book is recommended reading for those interesting in preparing delicious preserved foods for themselves or as gifts to family and special friends. A useful and colorful reference to add to your cookbook collection.
---
Ultimate Cake by Barbara Miller
DK Publishing, January 1999.
Trade Paperback, 160 pages.
ISBN: 0789437600.
Ordering information:
Amazon.com.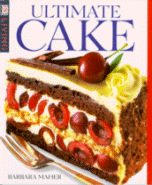 Ultimate Cake
is a guide to the world of cake baking, with delicious recipes and practical advice. The book contains over 100 cake recipes including recipes for: pound cakes, sponge cakes, layer cakes, chocolate cakes, fresh fruit cakes, tarts, fruit and spice cakes, nut and seed cakes, cheesecakes, meringues, pastries, cookies, festival cakes and children's party cakes. Many recipes include a full-color photograph of the delicious cake so you will know how it should look when you have finished baking and decorating. The book also covers the key ingredients and equipment used in cake making, with a beautifully photographed guide to basic cake baking techniques and principles. A must-have volume for novice and professional cake makers, which is packed with information and fantastic recipes.
---
Nonfiction Reviews
Page One |
Page Two
|
Page Three
|
Page Four
Return to Book Reviews Index
---
More from Writers Write