Mystery/Thriller Book Reviews
Page Four of Four
The Ice Limit by Douglas Preston and Lincoln Child
Warner Books, July 2000.
Hardcover, 449 pages.
ISBN: 0446525871.
Ordering information:
Amazon.com.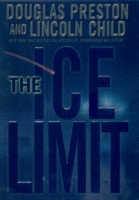 Palmer Lloyd, an eccentric billionaire, is looking for something extraordinary for the launch of his extravagant museum which is to be filled with rare, unusual items from around the world. Lloyd hears of the secret discovery of a massive meteorite on an island off the coast of Chile and decides that he simply must acquire the piece for his museum. Willing to pay any sum to acquire the meteor, Lloyd hires Eli Glinn of Effective Engineering Solutions, Inc., a highly unusual firm, which specializes in performing and solving bizarre and difficult engineering tasks, like this one. This project will require moving the heaviest object ever moved by mankind and getting it safely to Lloyd's museum -- without the Chilean government's knowledge. Lloyd also hires Sam McFarlane, a geologist and meteor hunter to help them. Eli Glinn hires a few trusted personnel of his own and obtains a huge oil tanker. After requesting a handsome sum from Lloyd, they are on their way.
This novel had some of the most fascinating characters Preston and Child, authors of
Relic
and
Riptide
, have ever concocted. These include Eli Glinn, the head of the unusual engineering company, who who leaves nothing to chance, and who never seems to make a mistake; Lloyd, the billionaire, who wants the meteor for his private museum more than anything in the world; and McFarlane, the well-rounded meteor expert who has a somewhat tarnished reputation in the scientific community. We're looking forward to enjoying more adventures with these characters in the future. Fascinating, energetic and compelling,
The Ice Limit
is this thriller writing duo's best yet. Highly recommended.
---
Murder on the Gravy Train by Phyllis Richman
Avon, July 2000.
Paperback, 318 pages.
ISBN: 0061097837.
Ordering information:
Amazon.com.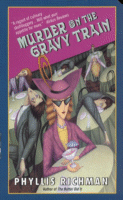 Food critic Chas Wheatley is back, and that's nothing but good news for mystery fans and foodies alike. After a disastrous blind date, Chas is feeling a bit out of sorts. Her mood is not improved by the incredibly fast decline of one of her favorite restaurants. The rising star young chef has disappeared, and it seems that her new feature on scams in the restaurant industry has put her on the hit list with grumpy restaurant owners with something to hide. As things grow stranger, Chas realizes that her investigation may have something to do with the homicide investigation of her friend, Homer Jones, the Washington, D.C. police detective who adores gourmet food and Chas' best friend, drama critic Sherele (not necessarily in that order).
Add a little romance, more intrigue, stir well, and you have a charming mystery which will entertain, titillate and enthrall would-be gourmets and foodies who love an insider's guide to the rarified world of fine dining. Chas is a delightful character. A single woman in her forties, she is well-respected in her profession and has a good relationship with her grown daughter. Her on-again, off-again relationship with hotshot investigative reporter Dave (whose idea of gourmet food is take-out from the local pizza parlor) is currently on the skids, opening the way for a steamy flirtation with a young taxi driver who adores good food. Richman is unparalleled at writing about her favorite subject, fine food, and her descriptions of the meals are truly mouth watering. But her skills at dialogue, characterization and pacing are just as good as her food writing. The result is a light, delectable concoction which will leave you longing for another course.
--Claire E. White
---
Mystery Reviews
Page One
|
Page Two
|
Page Three
|
Page Four
Click Here to Return to the Book Reviews Index
---
More from Writers Write