Mystery/Thriller Book Reviews
Page Three of Four
Don't Forget to Die by Margaret Chittenden
Kensington, June 2000.
Paperback, 316 pages.
ISBN: 1575665662.
Ordering information:
Amazon.com.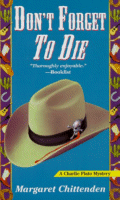 Charlie Plato, the red-haired part owner of the popular country and western bar CHAPS, has been spending her off time in the company of her business partner, ex-TV heartthrob Zack Hunter. Although Zack is a real hunk, Charlie keeps her distance -- most of the time, anyway. Her other partners in the tavern are the beautiful Savannah and the somewhat mysterious Angel. Charlie and Zack are about to be called into action when the handsome, somewhat taciturn Angel asks for their help. Angel and his brother Miguel are the prime suspects in the murder of their father, Vicenzo, who turns up dead in a storage locker. Vicenzo has been living under an assumed name for many years. Vicenzo left Texas and his two boys after he was accused of murdering his wife; he always claimed he was innocent. There are plenty of suspects in Vicenzo's death other than his two sons: his common-law wife Roxy Smith, a sexy teenager named Bambi who had caught Vicenzo's eye, and Roxy's highly suspicious father and brother -- who were anything but fond of Vicenzo. The more that Charlie and Zack investigate, the more suspects they seem to turn up. It also becomes clear that the murderer is very much alive, and determined to stop the amateur sleuths from finding out the truth.
This is the fourth entry in the Charlie Plato mystery series and it's a doozy. Fans of this delightful series have been wanting to know more about Angel, and this time they get their wish. Angel has some real secrets in his past (for one thing, Charlie didn't even know he had a brother, much less one who lives nearby). The chemistry between Charlie and Zack is as strong as ever, and Zack is just a scream; he insists on treating life as if it were just another episode in his long-running hit TV series, Prescott's Landing, and as if he were still the handsome Sheriff Lazarro. (He might as well be, the way the female suspects cotton to him, much to Charlie's irritation). The dialogue is crisp and funny, and the puzzle is a good one. Don't miss it.
--Claire E. White
---
Dying to See You by Margaret Chittenden
Kensington, June 2000.
Hardcover, 230 pages.
ISBN: 1575665611.
Ordering information:
Amazon.com.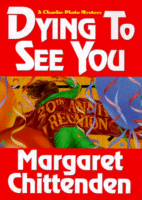 High school reunions can be real stressors, and Charlie Plato now regrets the day she agreed to host a 20-year reunion at her country and western bar, CHAPS. But the party is for her good friend and business partner, Savannah, so how can she refuse? What could possibly go wrong? Plenty. One of the guests is found murdered -- in a terribly undignified position -- and Charlie launches into action to find the murderer. With the help of her devilishly attractive business partner and would-be flame, Zack Hunter, Charlie sets off to find a murderer whose motives are buried in the past. Along the way, the budding romance between Charlie and Zack seems to be heating up -- that is, if Zack can keep his vow of celibacy for the next several months in order to convince Charlie that his legendary womanizing days are over. But romance isn't the only thing that's heating up at CHAPS; a murderer is getting nervous and decides that it's time for Charlie Plato's detecting career to end -- permanently.
The Charlie Plato series is fast-paced, funny and immensely entertaining. Margaret Chittenden is a real pro, and it shows in her skillful character development and snappy dialogue. This is one of the best current cozy series on the market, so if you haven't made the acquaintance of Zack, Charlie and all the gang at CHAPS, by all means do so. Highly recommended.
--Claire E. White
---
Mystery Reviews
Page One
|
Page Two
|
Page Three
|
Page Four
Click Here to Return to the Book Reviews Index
---
More from Writers Write
---