Mystery/Thriller Book Reviews
Page Two of Four
Deadly Decisions by Kathy Reichs
Scribner, July 2000.
Hardcover, 333 pages.
ISBN: 0684859718.
Ordering information:
Amazon.com.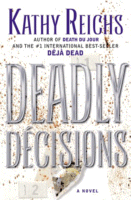 Dr. Temperance Brennan, a forensic anthropologist on an investigation in North Carolina, finds an unexpected body during a search for two long-dead bikers. The body is found where another biker told them it would be. A surprise find at the scene is an extra body, that of a young teenage girl, in addition to the two decayed bodies of the bikers. Temperance, who is known as Tempe to her friends, has to discover what this new find has to do with a little girl, nine-year old Emily Anne Toussaint, who was killed in Montreal, when she was caught in the crossfire of a biker war. Tempe has made it her personal mission to find those responsible for the murder of Emily and she is one determined anthropologist/sleuth. She'll need help from her young nephew Kit, who is crashing at her place for a while and fortunately knows a great deal about motorcycles. But she doesn't want so much help that he gets into any danger. And unfortunately, she won't get any help from her boyfriend who -- much to her surprise -- has been arrested for dealing drugs.
Kathy Reich, auhor of
Deja Dead
and
Death Du Jour
, is often compared to Patricia Cornwell by the media, which is a fair comparison. Reich, like Cornwell, is a strong writer. The main characters of the two authors have similar jobs, although Reich's Tempe is a forensic anthropologist, not a medical examiner like Cornwell's Kay Scarpetta. Despite the similarities, Reich, who was a forensic anthropologist herself, has a clear voice of her own. The books provide a gritty, detailed look at medicine and forensic evidence. Tempe's shy cat named Birdie and the entertaining mix of other characters who appear in and out of her life are all well-done. With
Deadly Decisions
, Reich continues her streak of forensic thrillers that deserve to be on the bestseller lists.
---
Death Benefit by Philip Harper
Simon and Schuster, July 2000.
Hardcover, 232 pages.
ISBN: 0684869179.
Ordering information:
Amazon.com.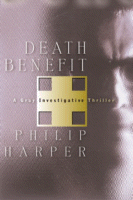 Jim Hartman, a cunning insurance salesman, is also a con artist and a murderer. He writes policies and collects the checks from customers, but never sends them in to the insurance company. But that is the least of his crimes. He also runs more elaborate schemes where he murders a customer, makes it look like an accident and then scams the woe-stricken family of their insurance reward. Luckily, George Gray, a reporter turned investigator, gets onto Hartman's trail after a friend is cheated out of his wife's life insurance. But Gray will have his hands full with nasty Hartman who has connections throughout Philadelphia and knows every trick in the book to evade capture.
Death Benefit
is a pleasure to read; the pacing is excellent and the character of the extremely twisted insurance man, Jim Hartman, is quite frightening. He seems like such a kind and honest man. Gray is an interesting type of investigator who goes the extra mile and, instead of just turning wrong doers over to the police, he breaks some rules to insure that justice is done for the victims. But that kind of justice is also much more dangerous to achieve. The novel also provides a shocking and disheartening look into corruption in the insurance industry. You may avoid certain types of insurance policies altogether after reading this book. Author Philip Harper has done another superb job with the latest Gray investigative thriller.
---
Mystery Reviews
Page One
|
Page Two
|
Page Three
|
Page Four
Click Here to Return to the Book Reviews Index
---
More from Writers Write
---