Mystery/Thriller Book Reviews
Page One of Four
Blue Gold by Clive Cussler with Paul Kemprecos
Pocket Books, August 2000
Trade paperback, 378 pages.
ISBN: 067178546X.
Ordering information:
Amazon.com.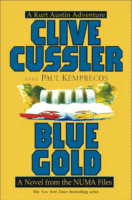 When Clive Cussler decided to launch a new NUMA (National Underwater & Marine Agency) series with a new hero, die-hard fans of Dirk Pitt were somewhat alarmed. They needn't have worried: Kurt Austin and Joe Zavala are every bit as exciting to watch as the original NUMA crew. Kurt and Joe set off in the high-tech mini-sub to Mexico to investigate the mysterious deaths of migrating gray whales, but they and their mini-sub are nearly blown to smithereens. Meanwhile, rumors have been surfacing about a white goddess and her mysterious tribe of natives who live cloaked in the depths of the Venezuelan rain forest. But the rumors aren't half as wild as the truth as NUMA researchers Paul and Gamay Trout are about to find out. Soon it becomes clear that the two NUMA teams' investigations are dovetailing; both seem to lead to a mysterious billionaire who may be behind a ruthless scheme to monopolize the Earth's water supply. Soon, Kurt and the gang are up to their rudders in espionage, treachery and firefights as they race against time to stop a worldwide disaster.
The first chapter of
Blue Gold
opens with a heart-pounding boat race and the action doesn't let up for a second until the rip-roaring denouement. Kurt and Joe are a likeable team, and Cussler knows his way around a great plot, fascinating locations and perfect pacing. So, suspend your disbelief, kick back and dive into the always exciting world of Clive Cussler -- you'll be glad you did.
---
A Conventional Corpse by Joan Hess
St. Martin's Minotaur, June 2000.
Hardcover, 275 pages.
ISBN: 0312246625.
Ordering information:
Amazon.com.
In Farberville, Arkansas, bookstore owner Claire Mallory has gotten stuck running the town's first mystery convention held at the local college. Still, she hopes she can make some money by selling some books at the convention. But bookselling is going to be last on her list of activities at this convention; seeing to the outrageous demands of the five mystery authors has suddenly taken top priority. When the universally despised mystery editor of Paradigm House, Roxanne Small, puts in a surprise appearance at the convention, things seem as if they couldn't get any worse. But they do; one of the convention attendees dies in a seeming car accident, and then Roxanne goes missing. Meanwhile, Claire's boyfriend, local police detective Peter Rosen, is being extremely irritating and Claire's teenage daughter is acting, well, like a teenager. It's up to Claire to find a murderer, before someone else becomes a victim of the ill-fated conference.
Joan Hess, best known for her Maggody mystery series, is in fine form for the latest Claire Mallory mystery. As always, Hess' crisp and wry tone fits perfectly with the personality of the long-suffering but seemingly indestructible Claire. The caricatures of some well-known mystery authors are sure to cause a few smiles as well -- the author with the crime-solving cat is especially funny. This is a great cozy series, but with a nice edge.
---
Mystery Reviews
Page One |
Page Two
|
Page Three
|
Page Four
Click Here to Return to the Book Reviews Index
---
More from Writers Write
---