Mystery/Thriller Book Reviews
Page One of Three
Agatha Raisin and the Fairies of Fryfam by M. C. Beaton
St. Martin's Minotaur, June 2000
Hardcover, 197 pages.
ISBN: 0312204965.
Ordering information:
Amazon.com.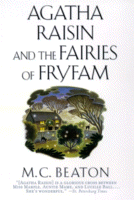 The inimitable Agatha Raisin has really had it with the small town in which she lives. Based on a prediction from a fortune-teller that she will find her destiny and her true love in Norfolk, Agatha rents a cottage in the tiny village of Fryfam. But Fryfam is not as serene as it appears. Strange fairy lights appear all over town, household items are going missing (including a fabulously expensive Stubbs painting), and then the local squire is found murdered. With the help of her friend and sometime paramour, Sir Charles Fraith, Agatha sets out to find a thief and a killer.There are no end of suspects -- from the gold-digging wife to the buxom barmaid to the crusty old master of the hunt. As the intrepid duo set out to investigate the strange doings in the little town they find that the charming town has some nasty little secrets buried under its thatched roofs that the inhabitants would prefer stay hidden. If Agatha isn't careful, she may be next on the killer's list.
What is it about this series that makes readers obsessively hunt down the latest entry? It's hard to define, but something about M.C. Beaton's writing is definitely addictive. Beaton's ability to distill the essence of the English small village is unmatched, and her heroine, Agatha, is by turns endearing, frustrating, and absolutely hilarious What will Agatha Raisin do next? There's no way you'll guess the surprise ending, and Raisin fans will have a hard time waiting for the next installment.
--Claire E. White
---
Death of a Myth Maker by Allana Martin
Thomas Dunne Books, March 2000.
Hardcover, 272 pages.
ISBN: 0312252412.
Ordering information:
Amazon.com.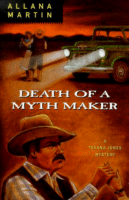 Life is tough on the Texas-Mexico border, but trading post owner and part-time sleuth Texana Jones wouldn't trade it for anything. When Texana's sister-in-law, Fran, comes to visit and to see the mysterious Marfa lights, Texana and Fran run into Ella Spivey and her new beau, the smooth-talking Julian Row, while watching the elusive lights. Ella is one of the seven elderly, wealthy Spivey sisters who are cattle ranchers. When Julian turns up murdered, Texana is drawn into the case. It seems that Julian was a "myth-maker", a local name for a pathological liar, and that Julian had quite a past. In fact, it seems as if quite a few people would have wanted him dead. Meanwhile, the local sheriff seems convinced that Texana is smuggling drugs across the border, and the execution-style murder of a man in her front yard doesn't help her image with the police. Can Texana find a killer and clear her reputation?
In this fourth Texana Jones mystery, Allana Martin delves deeper into the life of the
fronterizos
who brave fire, sand storms, drought and isolation for life on the banks of the Rio Grande. Martin's love for her native South Texas shows through in every word of her haunting descriptions of this unique corner of the U.S. The day to day life of a veterinarian (Texana's stalwart husband Clay), the antics of Phobe, the pet bobcat, the mouthwatering descriptions of Tex-Mex delicacies and the varied crises of a trading post owner make for compelling reading. Texana always seems to have trouble on her doorstep, but she sails through every crisis with aplomb. Texana's dealings with her Mexican neighbors, from the local drug lord to the Mexican constabulary, showcase the cultural dichotomy that exists on the border in a fascinating way. The mystery is always interesting, but it is the setting and Texana herself which are the real stars in this outstanding series.
---
Mystery Reviews
Page One |
Page Two
|
Page Three
Click Here to Return to the Book Reviews Index
---
More from Writers Write
---