Mystery/Thriller Book Reviews
Page Three of Three
Midnight Come Again by Dana Stabenow
St. Martin's Minotaur, May 2000.
Hardcover, 304 pages.
ISBN: 0312205961.
Ordering information:
Amazon.com.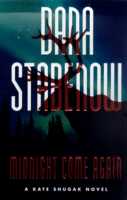 Private investigator Kate Shugak endured physical pain and a gut-wrenching loss in her last case (See,
Hunter's Moon
). Reeling from the loss of the love of her life, Kate literally disappears into the Alaska wilderness, much to the consternation of her many friends. Alaska State Trooper Chopper Jim Chopin sets out to find Kate, but nearly gives up when he is recruited to work undercover for the FBI in Bering, where the FBI suspects that some Russian mob members are smuggling plutonium into the country. Jim takes a job at Baird Airlines where, much to his surprise, he finds the elusive Kate -- also working under an assumed name. Kate knows that the Russians are up to something, but she thinks that whatever they are up to is tied into the local bank. As the investigation heats up, Kate worries that she again has brought her friends into danger. Can she solve the case and find a way to mend her broken heart?
The wild beauty of Alaska has never seemed so close and so real as when Dana Stabenow describes it in her two Alaska-based mystery series; the scenery itself is a mysterious and silent character which pervades the story. In this ninth entry in the series, we see more of Kate's inner fears, doubts and her struggle to join the world of the living once again. The likeable Jim Chopin plays a larger role in this book, and his thoughts give a new and interesting perspective on Kate and the events that unfold. Emotionally complex and moody,
Midnight Come Again
is expertly paced, and skillfully executed. Highly recommended.
---
The Rift by Walter J. Williams
HarperPrism, April 2000.
Paperback, 932 pages.
ISBN: 0061057940.
Ordering information:
Amazon.com.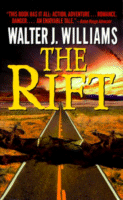 A massive earthquake measuring 8.9 on the Richter scale hits on the New Madrid fault line causing massive destruction to major cities, including St. Louis, Chicago, Nashville and New Orleans. The quake also knocks the mighty Mississippi river off course; the river breaks through dams and levies and develops dangerous rapids and large waves. Most towns in America's heartland are either flooded out or littered with debris and wrecked homes. The devastation is so widespread that the U.S. government cannot immediately get help into most of the disaster-stricken communities, and soon lawlessness breaks out in many areas. After the disaster, the story turns to the survivors who are forced to deal with the results of the destruction -- no phones, no electricity, gas leaks, looters, flooding, fires and frequent aftershocks. The survival stories focus on the lives of several people including Jason, a young boy who survives in a boat after losing his mother; Nick, an African-American engineer who survives the quake and begins looking for his daughter only to face unrestrained racism in the deep south; and Jessica, a heroic young general in the U.S. Army, who is put in charge by the president to retain order and deliver aid, but faces countless obstacles.
The Rift
is a fascinating novel, that is not only a great disaster story, but also a great survival story as well. As a side interest, author Walter J. Williams includes excerpts from historical articles and letters written about the previous devastating quakes in the region (the last of which occurred in 1811), at the beginning of each chapter. Williams also does an amazing job of developing his characters. Readers will cheer for Jason and Nick who end up stuck together on a small boat after the quake and go from one incredible ordeal to the next. Williams also focuses on the differences between people in America's heartland, including racism, and how relations between people both fall apart and come together in times of desperation.
The Rift
, although a lengthy 900+ pages, is an incredible read, that holds readers interest with every page. Highly recommended.
---
Mystery Reviews
Page One
|
Page Two
|
Page Three
Click Here to Return to the Book Reviews Index
---
More from Writers Write
---