Mystery/Thriller Book Reviews
Page Three of Three
Stealing Time by Leslie Glass
Dutton, Feb., 1999.
Hardcover, 340 pages.
ISBN: 0525944605.
Ordering information:
Amazon.com.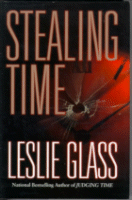 Sergeant April Woo has been handed a real hot potato assignment. A racially mixed couple's (Anglo husband and Chinese wife) baby is missing and the wife has been severely beaten. But the case is not as straightforward as it might seem. The husband, Anton, does not appear to be telling the whole truth, and the wife, Heather, appears too terrified to speak. Resentful that she was handed the case because she is Chinese American and knowing the personal trouble this case is going to cause her with her interfering mother and the local Chinese community, April nevertheless sets out to find a kidnapper, and possibly a murderer. Along the way she will stumble into the sad world of immigrant sweatshops and baby selling rings, while trying to fend off her mother's latest herbal "cure" to bring her to her senses (
i.e.
, quit the police force and marry a nice Chinese doctor.)
Stealing Time
is a wonderfully layered mystery which works on several levels. April's growth as a person in her relationship with Mike Sanchez (no longer her partner but still on the police force), her determination to be a success in a man's world against the wishes of her traditional Chinese mother and her struggle to come to terms with what she wants out of life are all vividly portrayed with Glass' characteristic wry humor and suspenseful writing. Another winner from Leslie Glass.
--Claire E. White
---
Suffer Little Children by Peter Tremayne
Signet, Feb., 1999.
Paperback, 320 pages.
ISBN: 0451195574.
Ordering information:
Amazon.com.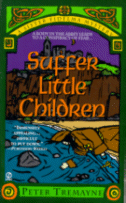 In 665 Ireland, a famous and beloved scholar and cleric is brutally murdered in the Abbey of Ros Ailithir, in the Kingdom of Muman. Sister Fidelma's brother, the new King of Muman, summons her and asks her to look into the murder in her official capacity as dalaigh -- a sort of examining magistrate. The murder is especially important to her brother because the neighboring kingdom of Fearna has vowed revenge and would use the death as an excuse to summarily annex disputed land, which would inevitably lead to war. Somewhat tired from her recent trip to Rome (
See
,
A Shroud for the Archbishop
), she nevertheless gamely sets out for the Abbey to investigate the murder, accompanied by her brother's trusted advisor and warrior, Cass. What she finds at the Abbey is a complex and large cast of characters, many of whom have hidden secrets. When the murderer strikes again, Fidelma herself is in danger from a killer who has a lot to lose from being discovered and everything to gain by silencing the intelligent and sometimes sharp-tounged dalaigh.
This is the third entry in the Sister Fidelma series. In this outing we get to see Fidelma in her native land and interacting with her own family. As always, Tremayne (the pseudonym for a well-known scholar of this time period) excels in his depiction of life in 7th century Ireland, bringing detail and life to those who lived so long ago. Sister Fidelma is representative of her times, which were relatively free of the prejudice against women and their intellectual abilities which came to Ireland much later in history. Sister Fidelma herself is a delight -- funny, brash and sometimes all too human for a religieuse, although in this outing her recklessness is somewhat irritating, and has some grave consequences. This is a mystery which makes you think, especially about how an enlightened society degenerated into one which so abused and repressed women for so many years. An excellent addition to this fine series.
--Claire E. White
---
Termination Node by Lois H. Gresh and Robert Weinberg
DelRey, Jan., 1999.
Hardcover, 310 pages.
ISBN: 0345412451.
Ordering information:
Amazon.com.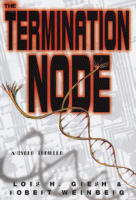 Judy Carmody, an internet security expert and one of the best hackers in Southern California, is completely puzzled by the most recent cyberheist. Carmody watches as bank accounts empty before her very eyes. Before she even has a chance to get to the bottom of this security nightmare, two men show up at her apartment claiming to be agents from ISD, the Internet Security Department. Carmody soon realizes that the men plan to kill her and her surfer neighbor shows at just the wrong time. Her surfer neighbor is killed, but with a few lucky breaks she narrowly escapes. However the men have high-connections and the murder is blamed on her. Soon she is being pursued by the police, FBI, ISD and everyone else. Carmody is forced to rely on a secret hacker underground (where she is known as the super-hacker TerMight) and calls on old friends she has never met except through cyberspace to try and find out how the security breach is related to the attempt on her life so she can clear her name.
Authors Lois H. Gresh, a computer specialist and Robert Weinberg, a popular science fiction author, have created an exciting story that will take any bank executive's fears of cybertheft and cyberterrorism to an entirely new level. An exhilarating cyberthriller full of espionage, hacking and cyberterror.
---
Mystery Reviews
Page One | Page Two | Page Three

Click Here to Return to the Book Reviews Index




---
More from Writers Write
---