Mystery/Thriller Book Reviews
Page Two of Three
Murder With Peacocks by Donna Andrews
St. Martin's Press, Jan., 1999.
Hardcover, 332 pages.
ISBN: 0312199295.
Ordering information:
Amazon.com.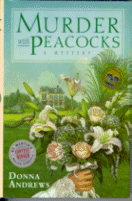 Meg Langslow is in the middle of her worst nightmare; she's the maid of honor in three weddings in the same summer. Her mother, her business partner and her brother are all getting married -- and all expect Meg to take care of every detail from the decorations (peacocks for the lawn), the dresses (hoopskirts so big no one can fit through the door) and the perfect theme (all 600 guests being required to wear Renaissance costume in the blistering heat). Just when she thinks things can't get any worse, her new love interest shows distinct signs of being gay and her new stepfather's sister is found murdered after one of the pre-wedding parties. Now her real father decides to play Sherlock Holmes while a murderer stalks the town. Of course, the weddings must go on -- even if the scenery is cluttered with the occasional corpse.
Donna Andrews' debut novel won the 1998 St. Martin's Malice Domestic Award, and it's easy to see why. The writing is fresh, funny, and wacky without being obnoxious. The heroine Meg is delightfully droll while recounting the antics of her nutball family in a small town setting. A fresh face has appeared on the cozy mystery scene which has livened things up considerably. Fans of Dorothy Cannell and Anne George should take note.
--Claire E. White
---
Cooks Overboard by Joanne Pence
HarperCollins, Dec., 1998.
Paperback, 287 pages.
ISBN: 0061044539.
Ordering information:
Amazon.com.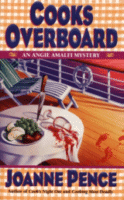 Food writer Angie Amalfi has finally gotten her homicide detective boyfriend Paavo Smith to take a vacation: a cruise to Mexico. With visions of a marriage proposal dancing in her head, Angie slips on her red bikini and sets sail for romance. But, alas, it is not meant to be. Paavo is distant and withdrawn and the crew is behaving quite strangely (the cook jumped overboard before they even got out of port). The other guests seem just as odd. It eventually becomes clear that there are a number of real-life spies on board, who are all convinced that Angie is some kind of Mata Hari, possessing some secret formula that they all want. When people begin turning up dead, Paavo finally takes an interest in saving their lives and outwitting some professional spies before getting off this death cruise.
Cooks Overboard
is the best Angie Amalfi book yet. Taking an amateur sleuth out of her familiar surroundings is always a gamble, but in this case it works perfectly. The idea of the bumbling Angie being taken for a master spy is quite funny and leads to a series of ridiculous predicaments, skillfully managed by Pence. Great fun for readers in the mood for a madcap, upbeat jaunt.
---
Mystery Reviews
Page One | Page Two | Page Three

Click Here to Return to the Book Reviews Index




---
More from Writers Write
---