Mystery/Thriller Book Reviews
Page Five of Five
Murder in the Mist by Willard Scott and Bill Crider
Dutton, Jan., 1999.
Hardcover, 244 pages.
ISBN: 0446602620.
Ordering information:
Amazon.com.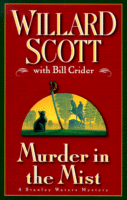 Stanley Waters, former weatherman for the
Hello, World
television show and beloved celebrity has left behind the full-time limelight to open an inn in his hometown of Higgins, Virginia. In this second installment of the cozy mystery series co-written with noted mystery author Bill Crider, Stanley is once again drawn into murder and mayhem in the small town. While participating in a Civil War battle reenactment, Stanley and local businessman Rance Woffard are both shot and Rance is killed. Determined to find out who shot him and who killed Rance, Stanley sets out to trap a killer, with the help of some feisty seniors from the retirement home. The only problem is, somebody is determined that Stanley give up his amateur sleuthing -- permanently.
This second installment in the Stanley Waters series is another folksy, charming entry from everyone's favorite weatherman and the talented Bill Crider. The town of Higgins is well-drawn, and the local inhabitants (especially of the retirement home) are quirky and amusing. But it is Stanley himself that is the draw in these stories. His search for romance is especially entertaining. Another keeper from a winning team that hopefully will have Stanley Waters snooping around Higgins, Virginia for years to come.
---
A Vow of Compassion by Veronica Black
St. Martin's Press, Dec.,1998.
Hardcover, 208 pages.
ISBN: 0312193548.
Ordering information:
Amazon.com.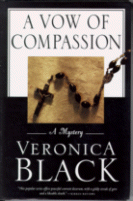 The indefatigable and always charming Sister Joan, Cornish nun and amateur sleuth extraordinaire, is back in this new entry into the delightful series. Sister Joan has never really liked hospital duty overmuch, but now she's up to her wimple in it. When Mother Dorothy, the Prioress of the Order of the Daughters of Compassion, inherits a sizable fortune from her godmother, she is somewhat troubled by the suddenness of her death at the local hospital while waiting for a routine hip replacement surgery. She asks Sister Joan to discretely look into the matter. It turns out that quite a few people have been checking into the hospital, but never check out. What's worse, a little girl who was being treated for abuse from her foster parents has been kidnapped. With the help of her good friend Detective Sergeant Mill, Sister Joan sets out to trap a cunning killer -- without becoming the next victim.
Sister Joan's latest adventure on the moors of Cornwell is a satisfying and enjoyable puzzler. The appeal of the Sister Joan series is its wonderful heroine who gave up her life as an artist to join the nunnery. Her rebellious spirit often puts her at odds with her strict vows, but her sense of humor usually remains intact. If you haven't discovered Sister Joan yet, by all means go back and read the entire series.
--Claire E. White
---
Mystery Reviews
Page One | Page Two | Page Three | Page Four | Page Five

Click Here to Return to the Book Reviews Index




---
More from Writers Write