Mystery/Thriller Book Reviews
Page Two of Five
Circles of Confusion by April Henry
HarperCollins, Feb., 1999.
Hardcover, 272 pages.
ISBN: 0446602620.
Ordering information:
Amazon.com.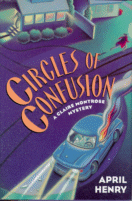 Claire Montrose's life is predictable: steady, dull boyfriend, and her job approving applications for vanity license plates. As her thirty-fifth birthday approaches, she wonders if anything exciting will ever happen to her. It does. When her great aunt Cady dies, she leaves everything to Claire, including a beautiful painting and her diary of her time spent in Germany after World War II as a WAC. Claire heads off to New York to have it appraised, and learns that it may be a Vermeer -- or a very good fake. Suddenly, everyone seems interested in her painting, including two very attractive men, one of whom evaluated the painting for her at Christie's. But violence seems to follow the mysterious painting, and Claire must exercise all her ingenuity to stay alive and determine if the painting is really the work of Vermeer.
April Henry has crafted a spirited and entertaining tale in her mystery novel debut. The pace is brisk and the action is lively. Spiced up with romantic subplots, the story succeeds mostly due to the likeable heroine, Claire, who is funny, brash, and somewhat vulnerable where men are concerned. The story is interspersed with examples of vanity plates with a glossary at the back. (
e.g.
, AMYSTREE= A mystery). A delightful new series which should garner a wide fan base.
---
Coffin's Got the Dead Guy on the Inside by Keith Snyder
Walker & Co., August 1998.
Hardcover, 287 pages.
ISBN: 0802733204.
Ordering information:
Amazon.com.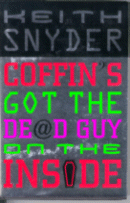 Musician Jason Keltner really doesn't want to accept the job offered to him by G-man Norton Platt to keep an eye on Paul Reno. But the rent is due and paying gigs are few and far between, so he accepts and befriends the despicable Paul. On Platt's orders, he takes Paul to a party to introduce him to computer genius Huey Benton and watch to see what happens. Huey ends up dead, and suddenly Jason is thrust in the middle of a dangerous game where several unsavory parties believe he and his roomates have possession of the mysterious dongle. Of course, Jason and his buddies Martin and Robert have no idea what the dongle is or why people want to kill for it, but they are really fed up with being shot at and threatened, so they decide to get in the game. But Paul has disappeared. It's up to Jason and his friends to find Paul, the mysterious dongle and outwit some very nasty people who seem intent on silencing Jason's budding musical career -- permanently.
Keith Snyder's second novel starring Jason Keltner (after
Show Control
) is a heady mix of L.A. noir, witty dialogue, and non-stop action. Jason, the long-suffering musician, wants only to finish "Untitled #23," a piece he knows will be wonderful -- if it's ever finished. But Jason attracts mayhem like Southern California attracts wanna-be movie stars, and soon he's mixing it up with the bad guys and wisecracking in the face of death with a panache worthy of James Bond -- or at least Fox Mulder. A clever caper that will leave you laughing out loud -- and longing to see more of Jason and friends. Highly Recommended.
--Claire E. White
---
Mystery Reviews
Page One | Page Two | Page Three | Page Four | Page Five

Click Here to Return to the Book Reviews Index




---
More from Writers Write
---