Mystery/Thriller Book Reviews
Page Three of Five
The Concubine's Tattoo by Laura Joh Rowland
St. Martin's Press, Dec., 1998.
Hardcover, 326 pages.
ISBN: 0312192525.
Ordering information:
Amazon.com.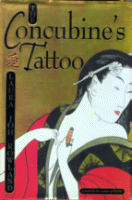 Sano Ichiro, the Most Honorable Investigator of Events, Situations, and People for the Shogun, is looking forward to his impending nuptials to the lovely and (he believes) submissive and pliant Lady Ueda Reiko. Unfortunately, just before the wedding feast, the party is rudely interrupted by the violent demise of one of the Shogun's favorite concubines, Lady Harume. The Shogun orders Sano to investigate immediately, so he must postpone his foray into married life to undertake a dangerous case which could mean his death if he fails to find the assassin or accuses the wrong person in the politically treacherous atmosphere of the time period. With his servant Hirito he begins to interview the prime suspects. He quickly finds out that there are a number of people who had motives for the murder. The motives run the gamut from personal reasons to political ones. As the investigation heats up, Sano faces an unexpected obstacle; his demure wife wants to assist him in the investigation, a shocking idea for the times, in which women were virtual slaves. Now he must face not only a wily murderer, but what's worse -- potential disharmony in the home.
The talented Laura Joh has created another wonderful tale starring the intrepid samurai detective Sano Ichiro. With a delightfully twisty plot, a compelling peek into the inner workings of the Shogun's palace, a jarring commentary on the life of women in 17th century Japan, and a sly sense of humor,
The Concubine's Tattoo
is an enthralling read which no historical mystery lover should miss. Highly Recommended.
--Claire E. White
---
Coq au Vin by Charlotte Carter
Mysterious Press, Feb., 1999.
Hardcover, 200 pages.
ISBN: 0892966785.
Ordering information:
Amazon.com.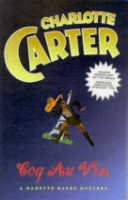 Beautiful, sassy, saxophone-playing Nanette has always looked up to her exotic Aunt Vivian -- a jetsetting, irresponsible and fun-loving stylesetter who has disappeared for the last few years. So when her mother gets a telegram from Aunt Viv asking for money, naturally Nanette offers to deliver the money in person to her aunt, especially in view of the fact that the task will require her to fly to her favorite city and one-time home, Paris. Nanette lands in Paris and takes up residence in Vivian's grungy hotel digs while looking for clues to Vivian's whereabouts in her luggage which was left behind at the hotel. At first, she spends too much time eating fabulous French food and romancing American expatriate musician Andre to do much sleuthing. But when she hooks up with gangster Gigi Lacroix things begin to pick up speed - too much speed, for Nanette has landed herself in a strange conspiracy which involves an old murder which some one would rather stayed hidden in the past. But Nanette is determined to find Aunt Viv -- no matter what the cost.
Coq au Vin
is a stylish, extremely funny tale which zips along at a frenetic pace, taking the reader on a tour of the city known for le jazz hot. Nanette is a lively, spirited, sexy and endearing heroine and her zest for living is contagious. A wonderful pick-me-up for anyone stuck inside on a drab winter day.
--Claire E. White
---
Mystery Reviews
Page One | Page Two | Page Three | Page Four | Page Five

Click Here to Return to the Book Reviews Index




---
More from Writers Write