Mystery/Thriller Book Reviews
Page One of Five
The Cat Who Saw Stars by Lillian Jackson Braun
Putnam, Jan., 1999.
Hardcover, 227 pages.
ISBN: 0399144315.
Ordering information:
Amazon.com.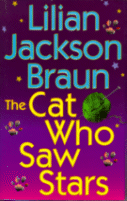 This 21st installment in the popular "Cat Who" series may be the best yet of this wonderful series. Reporter and recent millionaire Jim Quilleran is looking forward to a peaceful 4th of July at his lakehouse with his Siamese companions, Koko and Yum-Yum. But quiet is not on the agenda for this 4th of July, not by a long shot. A backpacker is missing, and the locals insist he was abducted by UFOs. Everyone seems to be taking up knitting with a vengeance, the local community theater is putting on a production of "Visitor to a Small Planet," and the husband of the fabulous new local chef is missing, believed drowned after an afternoon on the boat with his wife. When Koko begins staring up at the stars, even Quill has to admit that something strange is going on in Moose County.
Lillian Jackson Braun has added a fresh new
X-Files
type element to her long-running series, with great success. The characters are quirky, Quilleran is curious, and the cats are charming as ever. As Quill makes his rounds of the town while looking into the various mysteries of the day and writing his weekly column for the
Moose County Something
, the atmosphere gets stranger and more entertaining as events unfold. With a surprise ending and more verve than the last entry (
The Cat Who Sang for the Birds
), this tale shows Braun at her very best.
--Claire E. White
---
Buck Naked by Joyce Burditt
Ballantine Books, July, 1998.
Paperback, 284 pages.
ISBN: 0345401379.
Ordering information:
Amazon.com.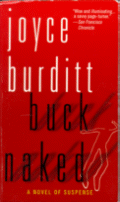 Demeter "Dutch" O'Brian is a Los Angeles private eye who's recovering from a long bout with alcohol. Needing a break from her stressful life, she takes a consulting job on the popular television series Stone, Private Eye. But all is not as it should be on the set of the show. Folksy tv star Buck Stevens is a real lech, and the staff is backbiting and conniving. But what really turns Dutch off of the whole Hollywood thing is when costar Amy Westin is murdered and her severed head is sent to Dutch with a note saying "you're next." Undeterred by stars on the make, her on-again off-again boyfriend or her Beverly Hills shrink mother, Dutch sets out to find a killer -- and avoid becoming the next victim.
Buck Naked
is a hilarious send-up of the inside world of making a television show. The monumental egos, the crazy producers and the mysterious studio heads are all caricatured here, with very funny results. Dutch is an offbeat and likeable heroine, and holds the reader's interest whether she's arguing with her mother in the middle of an earthquake or warding off the unwanted attentions of the show's star. Let's hope Dutch's next adventure also occurs in Hollywood -- the author knows her way around the set and her riffs on how television writers come up with storylines are hilarious.
---
Mystery Reviews
Page One | Page Two | Page Three | Page Four | Page Five

Click Here to Return to the Book Reviews Index




---
More from Writers Write