Mystery/Thriller Book Reviews
Page Four of Four
Loyalty in Death by J. D. Robb
Berkley, Oct., 1999.
Paperback, 358 page.
ISBN: 042517140X.
Ordering information:
Amazon.com.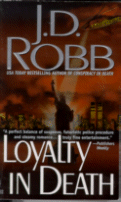 Tough as titanium 21st century New York cop Eve Dallas gets the call to investigate a high society murder. The mistress of a very wealthy man was convinced her lover was cheating on him, so she picked up one of the power tools his company manufactures and promptly drilled him to the wall. Then she sits down, calls the police and confesses. Although the case seems open and shut, Eve thinks there's something strange about the whole thing. While she's poking around in the murder case, something really big comes up: a terrorist group calling itself Cassandra has started bombing public buildings after making outrageous demands which the police cannot meet. What's worse: the terrorists seem to have a fondness for Eve and keep sending her love letters full of crazy rhetoric. Meanwhile, her trusted aide Peabody has major family troubles, and Eve's even having a few problems with her beloved husband Roarke. Can Eve save the two things she loves most: her marriage and her city?
The
In Death
series, written by bestselling author Nora Roberts under a pseudonym, just keeps getting better and better. Very different in style and tone from Ms. Roberts' other books, the
In Death
series features tough, gritty writing and super-steamy love scenes between Eve and her billionaire fantasy husband Roarke. (Any female who's not madly in love with Roarke by the end of the book doesn't have a pulse.) Even the prolific Roberts will have trouble keeping up with the demand for this hot series. Highly Recommended.
---
Murder for Beltene by Sandra Brewer
Write Way, Oct., 1999.
Hardcover, 309 pages.
ISBN: 1885173679.
Ordering information:
Amazon.com.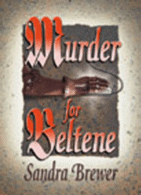 The tiny town of Sevryn, Michigan holds quite a secret. Since before the United States was formed, it has been the home of a clan of Welsh Druids named the Beltenes. The Druids have adapted over the years and, to outward appearances, appear to be normal citizens. They are doctors, lawyers, housewives and judges, and participate fully in local government. But when someone starts killing people and draining their blood as a macabre sort of gift to the Clan leader, Rhiannon Beltene, something must be done. Rhiannon is used to nutcases -- she is a bestselling vampire author, after all. But when the town gets a nosy new sheriff who hasn't been properly "welcomed" into the Clan (and therefore misses most of what's really going on), Rhiannon knows she's in for a tough time with the tabloids, her family, and, of course, the attractive new sheriff.
Sandra Brewer peppers her tale of murder in a small town with exotic characters, clever dialogue and a likeable, offbeat heroine. The Beltenes are a wildly unpredictable and colorful family (Rhiannon's cousin Trystan sleeps in a coffin and thinks he's a vampire), who are sure to intrigue readers who like a touch of the supernatural with their mysteries. More stories about Clan Beltene are sure to be welcomed by mystery fans, as well as fans of Anita Blake.
---
Pop Goes the Weasel by James Patterson
Little Brown, Oct., 1999.
Hardcover, 432 pages.
ISBN: 0316693286.
Ordering information:
Amazon.com.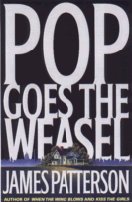 Detective Alex Cross is suspicious about some recent murders in the southeast side of Washington D.C., the worst part of town and an area where grisly murders normally don't so much as raise an eyebrow with the media and the police. But Alex Cross suspects that the murders are more than just drug-related crimes and continues to investigate, despite his police chief's insistence that he stay out of the investigation. Alex Cross and his partner, John Sampson, continue to find more bodies. When the body of a white male is found, the case finally begins to get the attention of the police. Alex Cross has his work cut out for him on this case because the killer, nicknamed the Weasel, is very intelligent and has plenty of surprise cards to play. Cross also has conflicts because of the growing seriousness of his relationship with his love interest Christine, who wishes he was less involved in his police work, especially with serial killers like the Weasel.
James Patterson, an Edgar award-winner and bestselling author of
When the Wind Blows
and
Kiss the Girls
, has created another sensational thriller with
Pop Goes the Weasel
. The crazed, yet clever mind of the killer is vividly expressed by Patterson and the idea of the Four Horseman (a strange fantasy game) provides a unique twist. Patterson also provides a stunning courtroom scene. The killer, whose biggest strength is his knack for always winning, is a worthy adversary for the cunning and multi-talented Alex Cross. Highly recommended.
---
Mystery Reviews
Page One | Page Two | Page Three | Page Four

Click Here to Return to the Book Reviews Index




---
More from Writers Write
---