Mystery/Thriller Book Reviews
Page Two of Four
Death Train to Boston by Dianne Day
Bantam, Sep., 1999.
Hardcover, 258 pages.
ISBN: 038548609X.
Ordering information:
Amazon.com.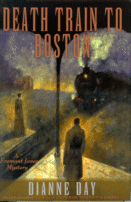 Fremont Jones and her love Michael Archer return in this fifth adventure in the popular series set in turn of the century San Francisco. Fremont and Michael have been hired to investigate vandalism on the Southern Pacific Railroad; so far, even the legendary Pinkerton firm has been unable to solve the case. When the vandals blow up a bridge near Salt Lake City, the train is derailed in a horrible accident. Michael is injured, and Fremont suffers two broken legs. Fremont is rescued then promptly kidnapped by a fanatical Mormon evangelist named Melancthon Pratt, who believes that an angel has sent Fremont to be his sixth wife. Trapped in the Melancthon household, Fremont must use all her wiles to convince the other five wives to allow her to escape. Meanwhile, Michael sets out to look for Fremont with Fremont's Chinese friend, Meiling Li. Beset by old enemies from his spy days and suffering from a broken collarbone, Michael is having a tough time of it; nevertheless, he won't give up his search for Fremont.
At first one might be worried that one of the best parts of this series -- the author's moody, almost gothic portrait of turn of the century San Francisco -- is missing from this story. No need to worry. Dianne Day keeps the suspense coming in this unusual adventure for the partners in the J & K Agency. The story is told from alternating viewpoints, which works quite well. We learn more about the thoughts of the mysterious Michael, Meiling adds a nice touch of mysticism, and Fremont is a treat to listen to, as always. Heavier on the suspense, a little lighter on the mystery,
Death Train to Boston
is a very entertaining story, indeed. Highly Recommended.
--Claire E. White
---
The Experiment by John Darnton
Dutton, Sep., 1999.
Hardcover, 421 pages .
ISBN: 0525945172.
Ordering information:
Amazon.com.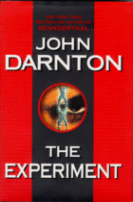 Jude Harley, a newspaper reporter and author, is intrigued by a recent case where a mutilated body has been discovered. The body was badly disfigured, its face and fingerprints removed so that its identity would never be known. His story on the murder only merited a small column towards the end of the paper, primarily because there was no name to put with the body, but he remains very curious about the strange murder. Meanwhile, on an island off the southeast U.S. coast a young man named Skyler is trying to escape from the strange community he was raised in because his friends he grew up with have been murdered. Unbeknownst to the outside world, the leaders of the colony have been running a society with its own laws and customs and have been conducting human experiments on its naive citizens. Skyler manages to escape to the mainland where he tracks down Jude after seeing Jude's face on a poster for a booksigning -- a face that looks like his own. Jude is stunned when he sees Skyler, who likes like he could be his identical twin, if he wasn't a few years younger. Jude and Skyler must figure out what is going on in the colony and what it means to the rest of the world, before the leaders of the experiment decide they are too much of a risk and take them out.
The Experiment
is a highly original and exciting thriller which focuses on cutting-edge scientific issues such as cloning and twin studies. This is the second book for Darnton, the Cultural News Editor for the
New York Times
, the author of the bestselling novel,
Neanderthal
, which involved an undiscovered colony of Neanderthals.
The Experiment
outshines
Neanderthal
in several respects, no easy task. His latest book has a much more exciting plot line, more interesting characters, and should vault Darnton into the upper realms of the SF/Thriller genre. The interactions between Jude and Skyler, who both look alike except for a few years in age, are especially interesting and well-written. The insight into genetics and the stories and revelations about cloning and twin studies are also engaging and compelling. A must-read for fans of science thrillers.
---
Mystery Reviews
Page One | Page Two | Page Three | Page Four

Click Here to Return to the Book Reviews Index




---
More from Writers Write
---