Mystery/Thriller Book Reviews
Page Three of Four
The Lamorna Wink by Martha Grimes
Viking, Oct., 1999.
Hardcover, 368 pages.
ISBN: 0670888702.
Ordering information:
Amazon.com.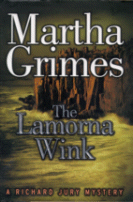 With Superintendent Richard Jury out of the way on a case, it is up to Jury's good friend and sometime sidekick, Melrose Plant, to step in when murder visits the village of Bletchley in Cornwall. Plant has leased a romantic looking home (he is
sure
it was the house used in the film,
The Uninvited
), and becomes caught up in the house's tragic history. Two children mysteriously drowned, and the tragedy has haunted everyone involved with it. When bright lad Johnny Wells' aunt disappears, Johnny asks his new friend Plant for help. Plant goes to Brian Macalvie, a commander in the Devon and Cornwall police for assistance. It turns out that Macalvie is working on a murder case which may be connected with Chris Wells' disappearance. With Jury out of town, Plant really shines on his own as a detective. With shades of Lord Peter Wimsey, the aristocratic Plant charms the notoriously truculent locals, studiously avoids his frightful Aunt Agatha, while managing to find an excellent chef to tend to his culinary needs. Plant's London friends also toodle down to provide a spot of comic relief. Jury blows in at the last minute to clean up the loose ends, but it is Plant who is the star in this outstanding addition to the popular series. Long on plot complications and delightful prose, the joy of this series is really in spending time with Plant and friends. Highly Recommended.
--Claire E. White
---
The Jakarta Plot by R. Karl Largent
Leisure Books, August, 1999.
Paperback, 368 pages.
ISBN: 0843945680.
Ordering information:
Amazon.com.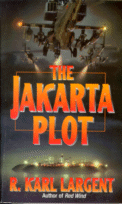 Ex-CIA agent, and former Air Force Colonel Gideon Stone is called out of retirement to help the agency with a sensitive situation: a plane recently went down under suspicious circumstances fifteen miles off the coast of Java. Everyone on board was killed. One man on the plane was carrying to the U.S. the top secret details of a proposed coup in Jakarta by the radical leader Sarawak. The stakes heat up when Sarawak's terrorists take over the hotel which is hosting the meeting of the World Economic Council. With world leaders, including the Vice President of the United States being held as hostages, Stone and his group have their work cut out for them. The body count is high and the action is intense. Readers who love lots of action and hi-tech weaponry will love this one.
---
Mystery Reviews
Page One | Page Two | Page Three | Page Four

Click Here to Return to the Book Reviews Index




---
More from Writers Write
---