Mystery/Thriller Book Reviews
Page One of Four
Cuba by Stephen Coonts
St. Martin's Press, Aug., 1999.
Hardcover, 390 pages.
ISBN: 031220521X.
Ordering information:
Amazon.com.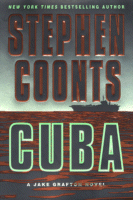 Fidel Castro is near death from cancer, which causes him nearly constant pain. As the charismatic dictator edges closer to oblivion, those around him begin to maneuver for power and position. A leading contender for the presidential position is Cuban State Security head, Alejo Vargas, a ruthless and vicious killer who will stop at nothing to achieve his ends. Meanwhile, Rear Admiral Jake Grafton is commanding a fleet of destroyers sitting off the coast of Cuba. His mission is to babysit the removal of chemical and biological weapons which have been stored at Guantanamo Naval Station. But the Americans are not the only ones who have a stockpile of the banned weapons. The Cubans have been manufacturing a virulent strain of polio which can be placed inside warheads and fired at the United States, and Vargas intends to start a war to rally the people around him when Castro dies. Admiral Grafton receives seemingly impossible orders from the American president: take out the missiles and the biological weapons without releasing any of the bioweapons onto the Cuban people. Grafton and his loyal troops quickly find themselves hip deep in aerial battles, CIA intrigue, gunfights and commando raids as they try to avert a bioweapons disaster and save millions of lives.
Cuba
is an exciting, fast-paced adventure which recalls to mind the original Cuban missile crisis: only this time the missiles have deadly viruses imbedded in them. Jake Grafton doesn't see quite as much action in this book, but when he
is
in the thick of things, he's formidable. Coonts adds some extremely entertaining characters to the mix this time out: a hot shot Cuban fighter pilot named Carlos Corrado, a hometown baseball star named El Ocho, whose brother hopes to overthrow Castro, Fidel Castro's beautiful mistress who is more than she seems, and an engaging pair of CIA spies who navigate Havana with stealth and style. If you enjoy dramatic action, a tightly wound plot and empathetic characters, you're going to love this one. Highly Recommended.
--Claire E. White
---
Appetite for Murder by Cecile Lamalle
Warner Books, Aug., 1999.
Paperback, 290 pages.
ISBN: 0446607622.
Ordering information:
Amazon.com.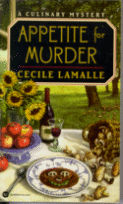 World class French chef Charly Poisson, co-owner of the charming and elegant upstate New York restaurant La Fermette, is having a lovely morning searching for the oyster mushrooms of which he is so fond. But his morning is spoiled by the discovery of a corpse in his secret mushroom spot. The victim is a mysterious woman whom no one seems to recognize. Charly begins to play amateur detective, when he's not busy whipping up a batch of Shrimp Charly or Salmon Rillettes (recipes provided). But the more Charly snoops, the odder the case becomes. Apparently, everyone in Van Buren county has something to hide, and there are a bewildering number of suspects. Soon Charly himself is in danger, as a killer hunts again.
Charly Poisson is a good-hearted little bourgeois who loves his family and his food. A widower, his family now consists of fours cats and his kitchen staff, whom he treats extremely well. Readers will enjoy watching Charly go through his paces as combines his two passions: cooking and detecting. The denizens of Klover are a strange and diverse lot. As Charly bumbles his way to a solution, the local constabulary finally deigns to make an appearance. A satisfying entry in the culinary subgenre.
---
Mystery Reviews
Page One | Page Two | Page Three | Page Four

Click Here to Return to the Book Reviews Index




---
More from Writers Write
---