Mystery/Thriller Book Reviews
Page Four of Four
Midnight Clear by Kathy Hogan Trocheck
HarperCollins, November 1998.
Hardcover, 279 pages.
ISBN: 0060175435.
Ordering information:
Amazon.com.
Ex-cop and current entrepeneur Callahan Garrity and her merry band of housecleaners are back in this seventh installment of this popular mystery series. It's the Christmas season and for the first time in a long time, Callahan feels she might actually be getting in the Christmas spirit: making some English trifle, baking local specialties and having a well-deserved drink at the end of the day while her mom whips up a batch of Tom and Jerry -- the "nutritional nightmare" that's become a family tradition. But this Christmas season will have its share of complications, especially when Callahan's long-lost brother Brian shows up with his daughter Maura who he has kidnapped from his ex-wife, the trampy, white trash Shay. Callahan offers to help Brian fight for custody of his daughter, but as usual, Brian is uncommunicative and secretive. When Shay is found murdered, Brian is the prime suspect and the family must band together to save Brian and the charming Maura from being taken by Shay's good for nothing mother who wants the child only to spite the Garritys. Callahan is up to the challenge with the help of an old family friend who is an attorney and her loyal housecleaning crew who is happy to pitch in to help.
Midnight Clear
is another outstanding entry in this excellent mystery series. The dialogue is crisp and oftentimes hilarious. Trocheck has a gift for making the sounds of the South come alive. Callahan and her somewhat eccentric, yet lovable family will seem like old friends by the end of the book, even if this is your first foray into this addicting series. Highly recommended.
--Claire E. White
---
A Perfect Crime by Peter Abrahams
Ballantine, October 1998.
Hardcover, 322 pages.
ISBN: 0345423844.
Ordering information:
Amazon.com.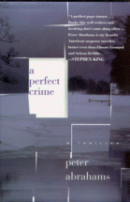 Roger Cullingwood is a man with an extraordinarily high IQ, even he would tell you so, but his life is not going well and he is very bitter. He is unemployed and communication with his wife, the beautiful Francie, has all but evaporated. He spends most of his time solving complex crosswords on his computer. Then he finds that his wife has been having a passionate affair with a popular radio psychologist, and he vows revenge. The goal of revenge suddenly gives Roger a purpose in life and, being the genius that he is, he begins to devise the most clever crime to murder his wife that he can imagine. His plans involve a deranged man, Whitey Truax, who committed a violent break-in rape-murder in the area several years ago. Roger thinks he has everything planned and that nothing can fail, but has he checked every last detail?
The Perfect Crime
is a masterfully written novel. The author, Peter Abrahams, manages to get inside the minds of all his main characters and vividly portray their deepest thoughts. The most entertaining character is Roger Cullingwood, the devilishly intelligent husband, who is certain he is clever enough to pull of the perfect murder. With plenty of plot twists and a surprise climax, you won't be able to put this thriller down. The characters are believable and appealing, the plot is fast-paced and intelligent and the plotting is first rate. You won't want to miss this spellbinding thriller from Abrahams, author of
The Fan
and
Lights Out
.
---
The Surrogate Assassin by Christopher A. Leppek
Write Way, October 1998.
Hardcover, 336 pages.
ISBN: 1885173547.
Ordering information:
Amazon.com.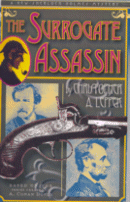 Holmes and Watson are back in this thrilling and authentic-feeling new adventure penned by Christopher Leppek. In this adventure, the crime-solving duo come to America in the late 1880s to help Edwin Booth (brother of the infamous Lincoln assassin John Wilkes Booth) find out who has been trying to kill him. It soon becomes clear that there was more to the Lincoln assassination than was reported in the press, and that there is a possibility that the wrong man was arrested for the crime. The more that Holmes digs into the case, the more complex it becomes. It will take all of Holmes' legendary insight and brilliance to solve this most public of crimes -- the solution to which could have lasting repercussions on American history.
Christopher Leppek has done his research well. The characters of both Holmes and Watson ring true, the puzzle is classic Conan Doyle and the denouement is most exciting. We learn a bit more about Holmes' family background in the story, and Watson's narrative of New York and its environs in the late 1880s is fascinating. For lovers of American history and of Sherlock Holmes, this book is a delectable treat to be savored.
---
Mystery Reviews
Page One | Page Two | Page Three | Page Four

Click Here to Return to the Book Reviews Index




---
More from Writers Write
---