Mystery/Thriller Book Reviews
Page One of Four
A Breach of Promise by Anne Perry
Fawcett Books, October 1998.
Hardcover, 374 pages.
ISBN: 0449908496.
Ordering information:
Amazon.com.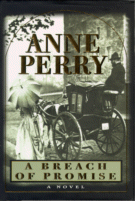 Investigator William Monk, attorney Sir Oliver Rathbone and Nurse Hester Latterly are back in Anne Perry's latest superbly crafted novel set in Victorian England. Sir Oliver is facing one of the most difficult cases of his life: defending the brilliant young architect Killian Melville in a breach of promise suit brought by his supposed fiancee, the beautiful and wealthy Zillah Lambert. No one, including Rathbone, can figure out why the young man refuses point blank to go through with the marriage. Confused and distraught over the case (which could very well mean the ruin of the young architect's entire career and social standing), Rathbone turns to his old friend and rival for the hand of Hester, William Monk. Monk takes on the case, as well as one where he must find two disfigured children who were abandoned long ago. Both are equally baffling and seem impossible to solve. Hester, meanwhile, is attending her latest case: a handsome young soldier who has been horribly disfigured in the Indian Mutiny. In classic Perry style, the three tales are inexorably intertwined. As the three friends try to solve the challenges they are faced with personally and professionally, the dramatic court case is building towards its inevitable conclusion - unless Monk can solve the mystery and give Rathbone a way to save case and his client's entire future.
Breach of Promise
is a mesmerizing tale which explores the role of women in Victorian society and the terrible choices some of them have made in order to follow their dreams. From the competent Hester, who nursed in the Crimean war with Florence Nightengale, to Perdita, the wife of the disfigured soldier Gabriel who was raised only to be the perfect wife with no knowledge of war and its horrors, each of the women in
Breach of Promise
has a poignant and complex story which illuminates the Victorian age. The story is complex with some real twists and turns, the Victorian atmosphere is rich and moody and Monk seems somehow more accessible to the reader as more of his inner thoughts and feelings are revealed. Highly Recommended.
---
Almost Human by Lillian M. Robert
Fawcett Gold Medal, October 1998.
Paperback, 278 pages.
ISBN: 0449002284.
Ordering information:
Amazon.com.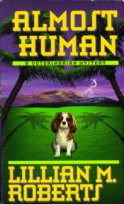 Palm Springs, California veterinarian Andi Pauling loves dealing with animals. Dealing with their owners is not always so easy. One especially difficult owner is wealthy Gilda Hopkins who owns a charming dog which Andi helped save. Now Gilda Hopkins is terminally ill with cancer and asks Andi to kill her as an act of mercy. Horrified, Andi refuses, but before she can convey this fact Gilda suddenly dies and her daughter accuses Andi of carrying out a mercy killing. Determined to salvage her reputation and her business, Andi sets out to find a murderer in order to clear her name while fending off an obnoxious reporter, trying to salvage a declining patient list and repair her tenuous relationship with someone who could be the love of her life.
Real life veterinarian Lillian Roberts has created a unique and entertaining protagonist with Dr. Andi Pauling. While providing an interesting puzzle, Roberts also examines the issue of euthanasia from all sides in a thought-provoking manner. Animal lovers especially will adore Andi Pauling and the inside look at a veterinarian's life that this mystery series provides.
---
Mystery Reviews
Page One | Page Two | Page Three | Page Four

Click Here to Return to the Book Reviews Index




---
More from Writers Write
---