Mystery/Thriller Book Reviews
Page Three of Four
Drinker of Blood by Lynda Robinson
Mysterious Press, November 1998.
Hardcover, 290 pages.
ISBN: 0892966734.
Ordering information:
Amazon.com.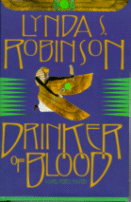 In Ancient Egypt, Lord Meren is the Eyes and Ears to the young King Tutankhamun for whom he has served as mentor since the death of Tut's parents, Queen Nefertiti and the heretic Pharoah King Akhenaten. Convinced that Queen Nefertiti did not die of the plague, but that she was poisoned, Lord Meren recently began an investigation into her death (See, Eater of Souls). The more he investigates, the more suspicious he becomes that the Queen's death was anything but an accident -- whenever he closes in on an important witness, he or she has a bad habit of disappearing or dying. Because King Tutankhamun has his hands full running a kingdom that is in turmoil, Meren decides to pursue his investigations in secrecy. But Meren's unknown adversary is fully aware of his investigation and manages to frame Lord Meren for the attempted murder of the Pharoah. Desperate to clear his own name, Meren goes into hiding and, with the help of his family and friends, launches a counterattack which he hopes will absolve him of the crime and help him trap the murderer.
This is the fifth novel featuring the brilliant and wily Lord Meren whose duties as the Eyes and Ears of the Pharoah lead him into some thrilling adventures. The story alternates between the story of Nefertiti's life and death and the search for her murderer by Lord Meren. Lynda Robinson has crafted a brilliant twin tale of love, lies, deceit and intrigue which will captivate both lovers of Egyptology and of a perfectly-plotted mystery. As always, the historical setting is meticulously researched, and is so vivid and real that you can picture the sights, sounds and smells of Ancient Egypt with perfect clarity. The characters are complex and well-developed, and the mystery of Queen Nefertiti's death is a difficult puzzle. Another excellent entry in this outstanding mystery series. Highly recommended.
--Claire E. White
---
Dying to Get Published by Judy Fitzwater
Fawcett Books, September 1998.
Paperback, 255 pages.
ISBN: 0449002942.
Ordering information:
Amazon.com.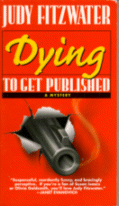 Part-time caterer and writer Jennifer Marsh has one dream in life: to be a published author. She is hip deep in rejection slips and is beginning to despair of ever reaching her goal when she conceives a brilliant idea after watching the morning talk shows -- she'll frame herself for a murder, then after she becomes a celebrity she'll clear herself and make a fortune when she writes a book about it. Picking out the vicious and universally-hated literary agent Penny Richmond as her victim she happily plots her death with the help of her writing group. Only one hitch occurs in her plan: Penny really is murdered and Jen is behind bars accused of the crime. Now Jen must use all of her ingenuity to find the real murderer and save herself -- and her budding career.
Judy Fitzwater has created a fresh and entertaining novel with
Dying to Get Published
. The insight into the trials and tribulations of an unpublished author and publishing process are heartfelt and funny, and Jen is a character that readers will love.
---
Mystery Reviews
Page One | Page Two | Page Three | Page Four

Click Here to Return to the Book Reviews Index




---
More from Writers Write
---