Mystery/Thriller Book Reviews
Page Two of Four
Dataman by Tom Mitcheltree
Write Way, September 1998.
Hardcover, 238 pages.
ISBN: 1885173520.
Ordering information:
Amazon.com.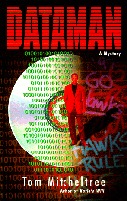 Tom Walkinshaw, better known as Dataman, is a genius at computer assisted information retrieval. His clients run the gamut from people looking for missing spouses, corporations and even the local Portland, Oregon police department. Fremont High School has just become the center of a media feeding frenzy when two students are brutally murdered while "tagging" (painting graffiti) a wall at the school. Soon, other taggers are being killed during their nocturnal artistic outings and the city is outraged at the brutal murders. The Portland police call in Tom to assist and soon he is embroiled in the gritty investigation that soon has Dataman himself in the line of fire from the serial killer. It's up to Dataman to find the killer
Tom Mitcheltree has created a charming new hero with Tom Walkinshaw. A divorced father of two, he is rusty at the dating ritual and is treading softly in his relationship with his new girlfriend: the smart, sexy and sometimes obnoxious Diane. Smart and sensitive, he is a unique and endearing character who is as tough as any action hero in a crunch. The look at the intricacies of information retrieval in the Information Age is fascinating and the storyline moves along at a brisk pace. A wonderful new series.
---
Death of a Saint Maker by Allana Martin
St. Martin's Press, January 1998.
Hardcover, 276 pages.
ISBN: 0312180837.
Ordering information:
Amazon.com.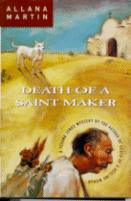 Life on the Texas-Mexico border is hot, dry and would seem slow-paced to any urbanite. But to trading post owner Texana Jones and her veterinarian husband Clay, it's home. Texana crosses the border to a little town in Mexico to attend the ceremony to rededicate a one hundred year old chapel when tragedy strikes. When they arrive the chapel is locked. When the doors are opened, a bloody dog runs out. Inside they find a venerated statue carver, known as the Saint Maker dead and covered in blood. The owner of the dog swears that the dog is not vicious, and would never kill anyone. Clay is the only one who can tell what happened, but he is in Mexico helping a fabulously rich rancher who may be much more than just a wealthy landowner. Of course, soon Texana is involved in the mystery of the Saint Maker's death, as well as a nasty case involving smuggled animal hides and drugs. Surrounded by lies, it is up to Texana and her dogged nature to ferret out the truth and save innocent lives -- both human and canine -- from being silenced forever.
This is Texana Jones' second adventure. With a mellow pace and rich characterization,
Death of a Saint Maker
is a compelling portrait of life on the Texas-Mexico border with all its nuances and quirks. Martin makes the border and its sometimes unusual inhabitants come alive, and before you know it, you're caught up in life in La Frontera. Texana herself has an appealing voice and through her eyes the somewhat harsh landscape of the Chihuahuan Desert is beautiful. Fans of regional mysteries and the Southwest in general will find this well-written story especially appealing.
---
Mystery Reviews
Page One | Page Two | Page Three | Page Four

Click Here to Return to the Book Reviews Index




---
More from Writers Write
---